Korean Summit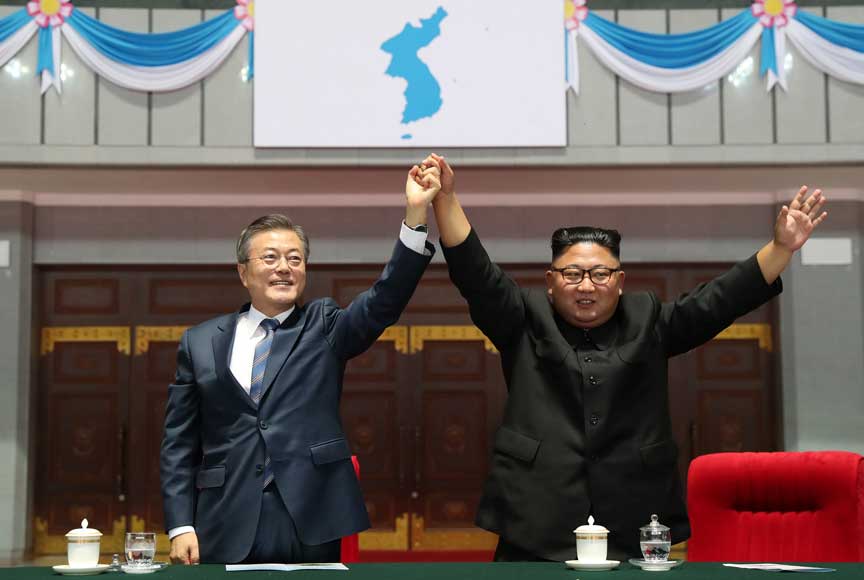 The leaders of North and South Korea met in a two-day summit September 18,19 2018 in Pyeongyang North Korea. In the course, the meetings the leaders agreed to a number of steps including furthering the pace of denuclearization of North Korea and a joint bid for the 2032 Olympic Games.
---


Kim Jong-un, North Korea's leader, and South Korean President Moon Jae-in met in Pyeongyang North Korea for a summit the North Korean capital. The leaders reached some agreements including one that forbids military drills within three miles of their border. Also, the two sides agreed to make a joint bid for the 2032 Olympics. One of Presidents Moon's primary goals of the talks was to restart the Nuclear negotiations between the United States and North Korea. To that end, Kim agreed to international inspections for the dismantling to the North Korean missile test site, and agreed to the decommissioning of one North Korea nuclear enriching sites, in return for unspecified reciprocal actions by the United States.
President Trump hailed the move as important steps. Other American observers were more skeptical, stating that the North Korean had merely agreed in principle to give up facilities that were no longer needed and had not met any of the real American demands, starting with an inventory of what they have.
The summit was unique in many ways. First President Moon was given the opportunity to speak to 150,000 gathered North Korean, the first time a South Korean leader has had the chance to talk directly to a large gathering of North Koreans. Second, the visit was extended for the third day so that President Moon could achieve a long time wish to climb Mount Baektu located close to the Chinese border, it is considered by both North and South Korean as a sacred mountain.

An additional summit has been agreed to in Seoul in the coming months. While concrete steps of economic cooperation were not announced, there were hints of joint commercial projects to be developed in the coming months.