Clymer, George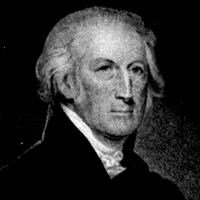 George Clymer, orphaned only one year after his birth in Philadelphia in 1740, was brought up by a prosperous uncle who provided him with an informal education and eventually made him a partner in his mercantile firm. The business was left to Clymer upon his uncle's death, and he went on to become one of Philadelphia's most influential merchants.
Originally attracted to the revolutionary cause as a result of the impact that British economic restrictions had on his business operations, Clymer was one of the first people to call for complete colonial independence. He began taking part in patriotic meetings and was at the head of a committee which brought about the resignation of a British appointed Philadelphia tea consignees in 1773. His strong economic and financial training was of particular help to the revolutionary effort, and he even helped to cover the costs of the war by trading in his own specie for the Continental currency.
Clymer was one of the more reserved delegates present at the Continental Congress in 1776, yet he was quite active on committees that dealt with commercial, financial and military matters. On the down side, his house was destroyed by the British in September of 1777, and his wife and children were forced to hide out in the woods nearby.
He left politics for a period of time after attending in the Continental Congress, and then returned to serve on the Pennsylvania Legislature from 1784 to 1788. While holding this office, he voiced his opposition to capital punishment, pushed for reforms in the penal code, and represented Pennsylvania at the Constitutional Convention in 1787.
Between 1789 and 1791 he represented Pennsylvania in the First Congress. Once he retired, he remained active, working for projects such as the Philadelphia Agricultural Society, the Philadelphia Academy of Fine Art, and the Philadelphia Bank. In 1813 he passed away at the age of seventy-three, and was laid to rest in the Friends Meeting House Cemetery in Trenton, New Jersey.