Skipjack II SSN-585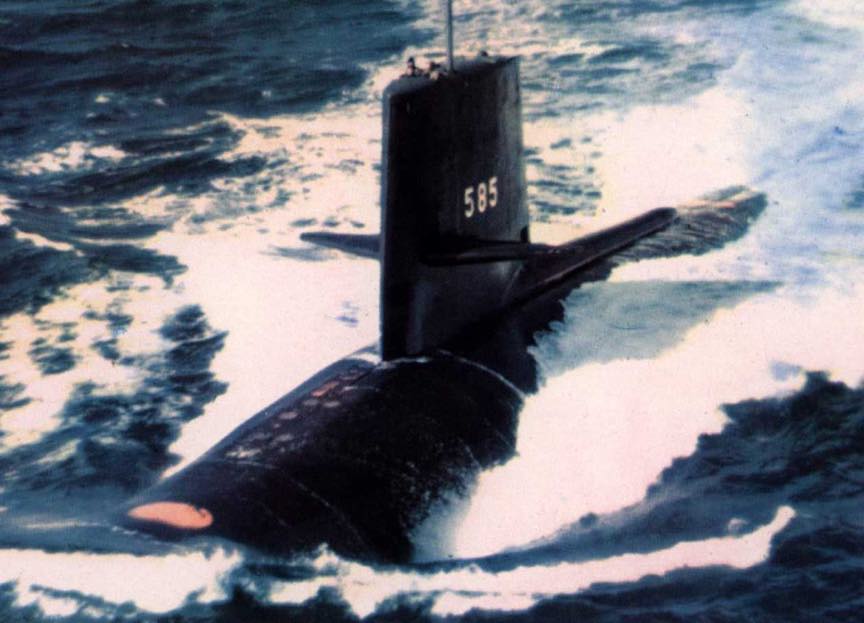 Skipjack II

(SSN-585: dp. 3,075 (surf.), 3,513 (subm.); 1. 252'b. 31'7"; dr. 29'5"; s. 20+ k., cpl. 93; a. 6 21" tt.,cl. Skipjack)

The second Skipjack (SSN-585) was laid down on 29 May 1956 by General Dynamics Corp., Electric Boat Division, Groton, Conn., launched on 26 May 1958 sponsored by Mrs. George H. Mahon, wife of the United States Representative from the 19th District of Texas; and commissioned on 15 April 1959, Comdr W.W. Behrens, Jr., in command.

Skipjack was the prototype which mated nuclear power with an Albacore hull. During her shakedown cruise in August 1959, she became the first nuclear ship to pass through the Straits of Gibraltar and operate in the Mediterranean Sea. Following post-shakedown availability at Groton, Conn., the nuclear submarine conducted type training and participated in an advanced Atlantic submarine exercise from May through July 1960. The remainder of the year was spent in a restricted yard availability and upkeep.

Skipjack commenced her 1961 operations by participating in two weeks of type training followed by antisubmarine warfare exercises through August, visiting Mayport, Fla., before returning to Groton.

In January 1962, Skipjack operated out of Key West Fla., for two weeks before entering Portsmouth (N.H.) Naval Shipyard for extensive overhaul, lasting four and one-half months. Following her return to New London, Conn., the submarine operated locally prior to departing in October for duty in the Mediterranean with the 6th Fleet. During this tour, Skipjack participated in various fleet and NATO exercises and visited Toulon France; and La Spezia and Naples, Italy, before returning to New London.

The year 1963 was occupied in submarine attack operations and ASW exercises, all designed to test the capabilities of the nuclear-powered attack submarine The highlight of 1964 was two months of duty with NATO forces, participating in exercises "Masterstroke" and "Teamwork" and visiting Le Havre, France and Portland, England, before returning to New London in October.

After devoting most of 1965 to training exercises, the submarine ended the year by entering Charleston (S.C.) Naval Shipyard for an overhaul that lasted until 18 October 1966. Skipjack then got underway for sea trials off Charleston, before joining Shark (SSN-591) for four days of type training in the Jacksonville, Fla., area She then sailed to her new home port, Norfolk, Va. before participating in Atlantic Fleet exercises.

Early in February 1967, Skipjack got underway for sonar and weapon tests and then participated in Atlantic submarine exercises from March through June July and August were spent in restricted availability at the Newport News Shipbuilding & Dry Dock Co

following which Skipjack took part in FIXWEX G-67, an exercise designed to evaluate fixed wing ASW aircraft against a submarine with Skipjack's characteristics. Following an extended deployment in October and November, the submarine returned to Norfolk to prepare for major operations of that year which she completed on 25 February 1968. The remainder of 1968 was spent in local operations in the Norfolk area.

On 9 April 1969, Skipjack commenced an overhaul in the Norfolk Naval Shipyard which was completed in the fall of 1970. After sea trials in December 1970 Skipjack returned to her regular duties.

Highlights of 1971 were sound trials and weapons system tests at the Atlantic Fleet Range, Puerto Rico from 25 January through 5 March and NATO exercise "Royal Night" from 15 September to 9 October. On 22 October, Skipjack returned to Norfolk, where she remained through January 1972.

Skipjack spent most of 1972 in tests and type training out of New London and Norfolk and in the Caribbean. The submarine returned to Norfolk late in the year and remained in the area into 1974.
Toward the end of spring in 1973, Skipjack returned to the Mediterranean Sea and conducted several exercises with the Sixth Fleet. During that time Skipjack was home ported at La Maddalena on the NE corner of Sardinia. Returning to Norfolk in September Skipjack crossed paths with Hurricane Ellen during the Atlantic transit. Down in the subsurface calm, the crew were hardly even aware of the turbulence above them.
After returning to Norfolk, Skipjack conducted several exercises with ASW aircraft flying from air bases in Virginia and North Carolina. In these exercises Skipjack played the role of a Russian submarine; ASW forces were to locate, track and conduct simulated attacks against the Skipjack. During the exercise, Skipjack was placed under certain handicaps that would not have been present in normal operations; for instance, she was restricted to a designated operating area measuring 20 miles by 10 miles. Also, at that time, Skipjack had a noise problem in her reduction gears. ASW crews were provided the sound profile of the reduction gears; in addition, Skipjack was required to generate a unique sound signal at all times. This was done so the ASW crews could be certain they were targeting the right submarine and not accidentally launch a simulated attack on a real Russian submarine. As a result of all these safety measures and restrictions, the ASW forces were able to locate Skipjack nearly 50 percent of the time.
At the end 1973 Skipjack was transferred to the submarine base at Groton in preparation for a refueling overhaul at General Dynamics' Electric Boat Division. After conducting a few more exercises, Skipjack entered the shipyard for overhaul in the summer of 1974 and remained inactive until the fall of 1976.

On August 16, 1980, 'Skipjack' was in port in Callao, Peru, along with another US Navy surface vessel.
In 1986, Skipjack deployed on a "Northern Run" to the North Atlantic Ocean.
In 1987 Skipjack deployed to the Mediterranean Sea, returning in early September and entering dry-dock for the September – November time frame. In early 1988, Skipjack visited St. Croix, Port Canaveral, Florida, Bermuda, and Halifax Harbour, Nova Scotia; the last two port calls conducted during an exercise. In late April, Skipjack departed Groton, traveling to the south. During this underway, sister diesel submarine USS Bonefish (SS-582) experienced a disastrous fire. TV news broadcast reports of the fire with film; however, news studio editors failed to identify the submarine televised. Wives of the Skipjack's crew noticed the sub bore strong resemblance to the Skipjack, leading many to believe it was the Skipjack suffering the casualty.
Skipjack had a change of command during the summer of 1988 and the crew prepared for a UNITAS cruise to South America. Skipjack left in September and visited the Naval Base in Puerto Rico; Caracas, Venezuela (anchored out); Cartagena, Colombia and then transited the Panama Canal. While at a Naval Base on the Pacific side, one motor-generator suffered an unrepairable casualty. Skipjack left UNITAS, re-transited the canal and headed to Groton, where she entered dry-dock for repairs.
Skipjack's authorization to dive expired in March 1989 since it was not cost efficient to inspect the hull in 1987 for a ship scheduled to be decommissioned. She had just been to St. Croix and some of the return trip was conducted on the surface. From March thru June, Skipjack provided bridge training to students at the Submarine Officer Basic School in Groton, mostly running up and down the river. During one trip out of the sound the anchor got stuck. Divers were called out from Groton to cut the anchor chain and retrieve the anchor. Skipjack entered dry-dock for the third time in three years to have the anchor fixed, at a cost of about $75K. Skipjack left Groton in early July to transit to Norfolk. After arrival Skipjack provided support vessel services for another submarine's sea trials. Following this mission, Skipjack entered NNSDDCO in October for decommissioning.
Skipjack was decommissioned and stricken from the Naval Vessel Register on 19 April 1990, having served for 31 years in the US Navy. ex-Skipjack entered the Nuclear Powered Ship and Submarine Recycling Program in Bremerton, Washington, on 17 March 1996. Recycling was completed on 1 September 1998.