Shark VI SS-314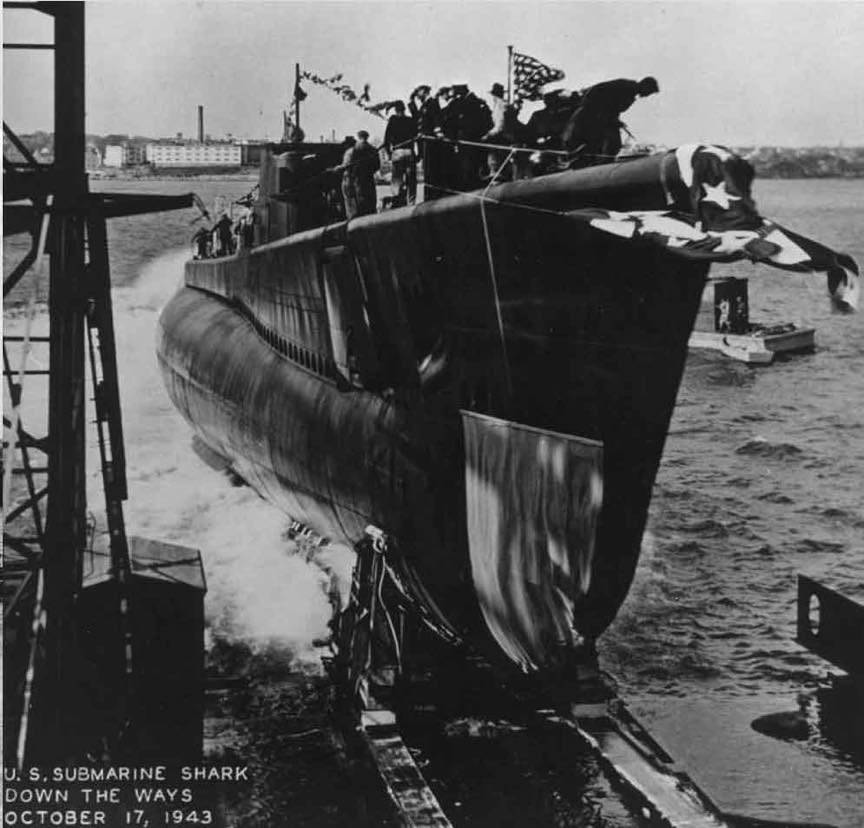 Shark VI

(SS-314: dp. 1,526 (surf.), 2,424 (subm.); 1. 311'9"; b. 27'3": dr. 15'3"; s. 20 k. (surf.), 8.75 k. (subm.);cpl. 81; a. 1 5", 1 40mm., 1 20mm., 10 21" tt.; cl.Balao )

The sixth Shark (SS-314) was laid down by the Electric Boat Co., Groton, Conn., on 28 January 1943; launched on 17 October 1943; sponsored by Mrs. Albert Thomas, wife of Honorable Albert Thomas, United States Congressman from the Eighth District of Tex. and commissioned on 14 February 1944, Comdr. E.N. Blakely in command.

Following shakedown off New London, Conn., Shark transited the Panama Canal and arrived at Pearl Harbor on 24 April for final training in the Hawaiian area. Her first war patrol commenced on 16 May 1944
and was conducted in waters west of the Mariana Islands as part of a coordinated attack group with Pintado (SS-387) and Pilotfish (SS-386). Early on the morning of 2 June, Shark submerged ahead of an enemy convoy and fired a spread of torpedoes at a Japanese tanker. Although all missed the original target, the torpedoes continued on and hit and sank another enemy vessel, the 4,700-ton cargo ship, Chigo Maru. After evading the ensuing depth charge attack, the submarine continued her patrol.

On 4 June, Shark began tracking another heavily escorted convoy, and, in maneuvering for attack encountered a patrolling destroyer dead ahead. Upon failing in a maneuver for a "down-the-throat" shot, the submarine passed down the port side of the enemy at 180 yards and fired four torpedoes toward a heavily laden cargo ship. She was rewarded with four solid hits that sent Katsukawa Maru quickly to the bottom. After escaping from the aroused escort ships, Shark surfaced and continued the chase. She caught up with the convoy on the afternoon of 5 June; and, after nightfall, let go a spread of six torpedoes which sank the 3,080-ton freighter, Tumahime Maru, and the 7,006-ton passenger-cargo ship, Takoka Muru. Shark again evaded the escort ships, then surfaced near midnight, but was unable to catch up with the convoy. The remainder of the patrol was unproductive, and the submarine returned to Midway for refit on 17 June.

Shark put to sea on 10 July for her second war patrol, this time in the waters off the Volcano and Bonin islands. On 19 July, she fired four torpedoes at an enemy convoy, but they narrowly missed their mark as the convoy made a sharp "zig" away. On 1 August, Shark was again frustrated in an attack on a Japanese convoy when, while moving into firing position, three escorts forced her to take evasive action which allowed the convoy to escape. The following afternoon, the submarine set course for Iwo Jima where she took lifeguard station in support of carrier airstrikes.

On the afternoon of 4 August, Shark rescued two airmen from a crashed Lexington (CV-16) torpedo bomber. She terminated her lifeguard duties on the 19th and touched at Midway before arriving at Pearl Harbor 10 days later.

Shark was lost during her third war patrol, probably in the vicinity of Luzon Strait, while participating in a coordinated attack group with Seadragon (SS-194) and Blackfish (SS-221). On 24 October, Seadragon received a message from Shark stating that she had made radar contact with a single freighter, and that she was going to attack. This was the last message received from the submarine, and all subsequent attempts to contact Sha rk failed. She was reported as presumed lost on 27 November.

Shark received one battle star for World War II service.