Sargo I SS-188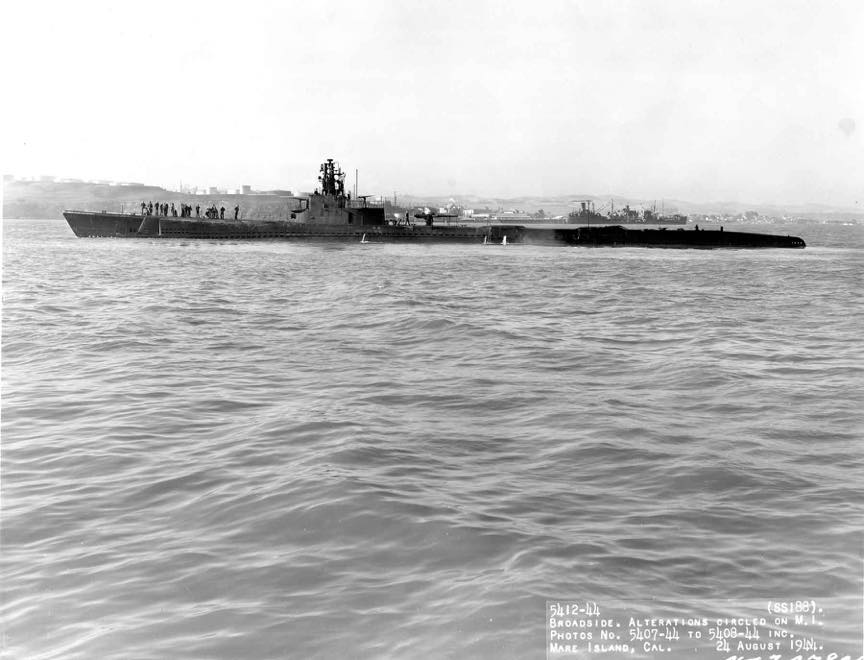 Sargo I

(SS-188: dp. 1,450 (surf.), 2,350 (subm.), 1. 310'6" b. 27'1", d. 13'8", s. 20 k. (surf.), 8.75 k. (subm.) cpl. 55; a. 8 21" tt, 1 3", 2 .50 cal. mg., 2 .30 cal. mg.; cl. Sargo)

The first Sargo (SS-188) was laid down on 12 May 1937 by the Electric Boat Company, Groton, Conn.; launched on 6 June 1938; sponsored by Mrs. Chester W. Nimitz; commissioned on 7 February 1939, Lt. E. E. Yeomans in command.

After shakedown along the eastern seaboard of South America, Sargo departed Portsmouth, N.H., in July 1939 for duty with the Pacific Fleet. Transiting the Panama Canal, she arrived at San Diego in mid-August. She operated in the eastern and mid-Pacific for the next two years, including a practice 40-day war patrol between Midway and the Marshall Islands in the fall of 1941. She departed Pearl Harbor on 23 October 1941, arrived in Manila on 10 November, and was there when Japan attacked Pearl Harbor on 7 December.

The next day the submarine got underway for her first war patrol, which took her along the coast of French Indochina and to the Netherlands East Indies. She made eight separate attacks on enemy shipping but the depth control and firing mechanisms of her Mark 14 torpedoes malfunctioned, permitting her targets to escape unharmed. On 20 January 1942, she assisted in the rescue of the crew of S-86 (SS-141) after that submarine had run aground on Taku Reef in the Makassar Strait. Sargo remained surfaced, relaying distress messages to friendly aircraft and surface ships. After the rescue by the Dutch merchant ship Siberote, Sargo headed for Java, and arrived at Soerabaja on 25 January.

Here she offloaded her remaining torpedoes and 3inch ammunition, and took on one million rounds of .30 caliber ammunition desperately needed by Allied forces in the Philippines. After delivering her vital cargo to Mindanao, she returned to Soerabaja with 24 aircrewmen from Clark Field on board.

Sailing from Soerabaja on 25 February, she headed for Australia and was one day out of Fremantle when she was attacked by an Allied plane which mistook her for a Japanese ship. Although a near miss by a bomb caused minor damage, Sargo arrived safely at Fremantle on 5 March with 31 passengers from Java.

On 8 June, the submarine put to sea for her fourth patrol which was conducted in the Gulf of Siam off Malaya. She attacked only one target, a small tanker, but failed to score before returning to Australia on 2 August.

The fifth war patrol, from 27 August to 25 October was in the Celebes and South China Sea. In a submerged attack, she torpedoed and damaged the cargo ship, Teibo Maru, off Vietnam, French Indochina, on 25 September. She then surfaced and finished off the crippled freighter with gunfire.

On 29 November, she departed Brisbane and conducted her sixth patrol en route to Hawaii. On the last day of 1942, she made a submerged attack on an enemy tanker off Tingmon Island, firing a spread of four torpedoes. Heavy explosions were heard, accompanied by grinding noises usually associated with a ship breaking up. But a postwar review of Japanese records did not confirm the sinking. The submarine arrived at Pearl Harbor on 21 January 1943 and proceeded to San Francisco Bay for a three-month overhaul in the Mare Island Navy Yard.

Returning to Hawaii on 10 May, she departed on the 27th for her seventh patrol which took her to the Truk-Guam and Truk-Saipan shipping lanes. On 13 June, she intercepted a three ship convoy, escorted by a subchaser. That night, she made, a submerged attack, sinking the passenger-cargo ship, Konan Maru southeast of Palau. The next day, she fired torpedoes at another of the cargo ships but could not learn the results of her attack, since she was forced to dive to escape the subchaser's depth charges. Sargo arrived at Midway on 9 July.

She departed Midway on 1 August for her eighth war patrol which she conducted north of Truk and in the Marianas. She made no contacts and returned to Pearl Harbor on 15 September for refit.

On her ninth war patrol, 15 October to 9 December Sargo operated off Formosa and in the Philippine Sea. On 9 November, she torpedoed the cargo ship, Tago Maru, southeast of Formosa, and finished sinking the stricken ship with gunfire. Steaming north, SS-188 torpedoed and sank the passenger ship, Ko.~sei Maru two days later east of Okinawa. Afterwards, she picked up a Japanese soldier, clinging to floating debris, a survivor of another sinking. Sargo returned to Pearl Harbor on 9 December 1943.

Sargo's tenth patrol, 26 January to 12 March 1944, was conducted north of the Palaus. She torpedoed and sank the passenger-cargo ships, Nichiro Maru, on 17 February and Uchide Maru on the 29th.

After refit in Pearl Harbor, the veteran submarine departed on her 11th war patrol on 7 April and cruised along the southern coasts of Kyushu, Shikoku, and Honshu. On 26 April, she torpedoed and sank the cargo ship, Wazan Maru, in Kii Suido, approaching Osaka Bay. She returned to Pearl Harbor on 26 May and steamed east to the west coast of the United States for a major overhaul at Mare Island Navy Yard.

Returning to Hawaii in September, Sargo got underway for her 12th patrol On 13 October and operated off the Bonin and Ryukyu Islands. Two trawlers were damaged by Sargo's 3 inch deck gun and machine guns.

On arrival at Majuro Atoll, Marshall Islands, on q December 1944, she was assigned to training submarine crews, until 13 January 1945, when she proceeded to Eniwetok Atoll. There she acted as a target during ASW training. As the war ended, she returned via Hawaii to the United States, arriving at Mare Island on 27 August. Decommissioned on 22 June 1946, she was struck from the Navy list on 19 July 1946. Her hulk was sold for scrap on 19 May 1947 to the Learner Company of California.

Sargo was awarded eight battle stars for her service in World War II and received the Philippine Presidential Unit Citation.