S-49 SS-160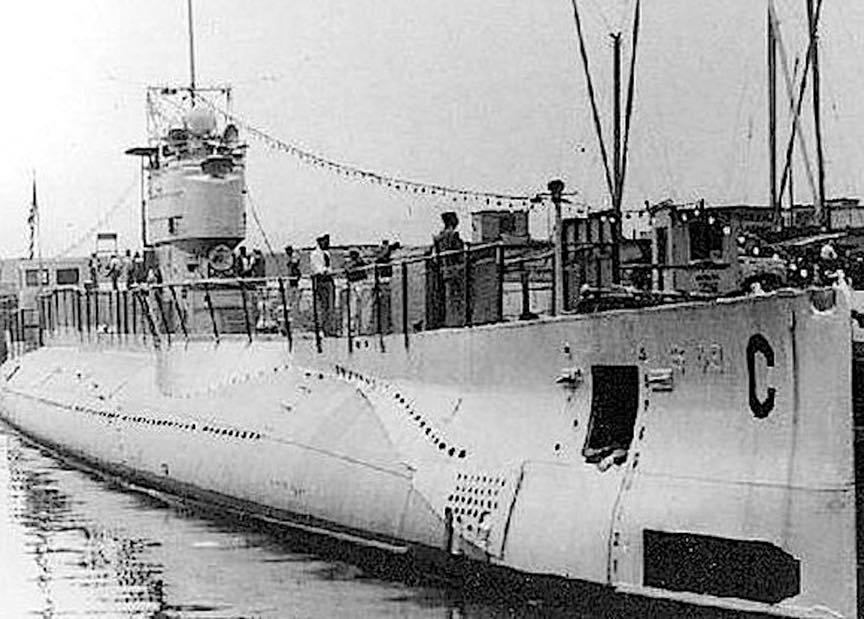 S-49

(SS-160: dp. 993 (surf.), 1,230 (subm.), 1. 240' b. 21'10"; dr. 13'6" (mean), s. 14.5 k. (surf.), 11 k.(subm.); cpl. 38; a. 1 4", 5 21" tt.; cl. S-48)

S-49 (SS-160) was laid down on 22 October 1920 by the Lake Torpedo Boat Co., Bridgeport, Conn.Launched on 23 April 1921, sponsored by Mrs. Joseph E. Austin, and commissioned on 5 June 1922, Lt. Ingram C. Sowell in command

Commissioned at Bridgeport, S-49 remained there through July, and, in August, moved down to the Submarine Base at New London where she joined Submarine Division Zero, composed of units engaged in submarine research and development. Later reassigned to Division 4 and then to Division 2, she continued experimental work, including aerial visibility tests and torpedo development, and also participated in regularly scheduled exercises, primarily in the New London area into 1926. At the end of January of that year, she proceeded to Portsmouth, N.H., for a regular overhaul. On 2 April, she returned to New London; but, eighteen days later, her operating schedule was again interrupted.

At about 0750 on Tuesday, 20 April, S-49's engines were started. Seven minutes later, just as a pilot cell cover was removed to test the specific gravity of the electrolyte, the forward battery exploded. The hydrogen gas explosion destroyed the cells in the forward half of the battery and forced up the battery deck. Ten men were injured. Two others were gassed during rescue operations. Four of the twelve died of their injuries.

The battery compartment was sealed and kept shut until mid-afternoon when the outboard battery vent was opened. During the night, the submarine took on a slight list to port and air pressure was used to keep ballast. At about 0515 on the 21st, a second explosion occurred in the battery room when wash from vessels departing for torpedo practice rocked S-49. The compartment was resealed for another few hours, after which the work of clearing the wreckage was begun.

Following repairs, S-49 resumed operations off the New England coast, and in January 1927, moved south, with S-50, for exercises and tests off Key West, Dry Tortugas, and in Tampa Bay. On 12 March, she returned to New London, whence she completed a run to Portsmouth and back before proceeding to Philadelphia, with S-50, for inactivation. Arriving on 31 March, she was decommissioned on 2 August and berthed with other reserve ships at League Island until struck from the Navy list on 21 March 1931 in accordance with the London Treaty. S-49 was sold to the Boston Iron and Metal Co., Baltimore, Md. on 25 May 1931. Reduced to a hulk by that company in 1936, but not scrapped, the hulk was apparently reacquired seven years later, "as equipment," for use in experimental work at the Naval Mine Warfare Proving Ground, Solomons, Md.