1960 Elections Kennedy vs Nixon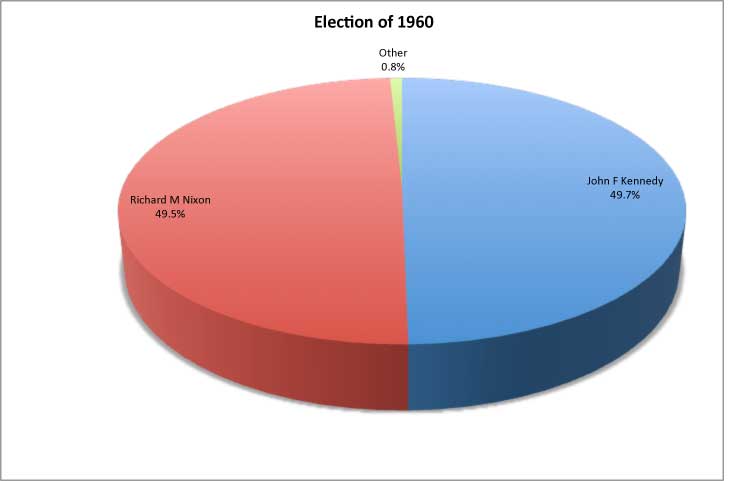 Senator Kennedy entered seven primaries and won all seven primaries he entered. His victory in West Virginia was particularly important. West Virginia had almost no Catholic voters. JFK's victory there showed he could win anywhere. Kennedy went into the Democratic convention of Los Angeles as the clear front runner. His superb campaign organization guaranteed him the victory on the convention hall. In his acceptance speech, Kennedy stated: "We stand today on the verge on a new frontier; the frontier of the 1960s; a frontier of unknown opportunities and perils; a frontier of unfulfilled hopes and threats." The Republicans in Chicago nominated vice President Richard Nixon.
Kennedy campaigned on the theme of getting the country moving again. He assailed the "missile gap" with the Russians and denounced the Eisenhower administration for allowing a Communist regime to come to power in Cuba.
Nixon criticized Kennedy for his lack of experience. However, Nixon forbade his staff from bringing up the question of Kennedy's religion (JFK was Catholic). Despite that fact, Kennedy's faith remained an issue. The final analysis of the election showed that Kennedy's religion ended up helping him more than it hurt him.