Joseph Biden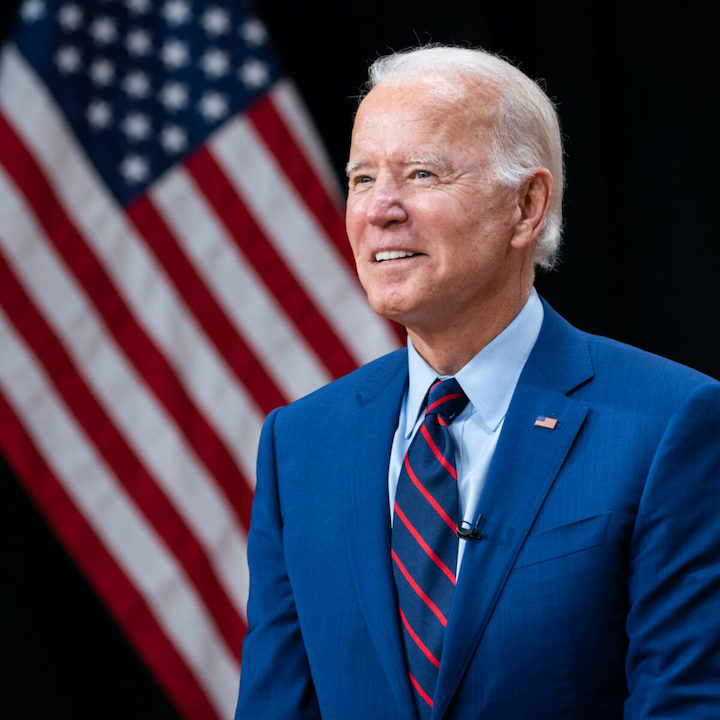 Biden was the oldest President in US history. He took office in the midst of Covid-19 Pandemic and the resultant ecomic crisis.
---
The Early Years

Joseph R Biden, Jr., was born in Scranton, Pennsylvania, on November 20, 1942. He was the oldest of four children born to Joseph Biden, Sr., and Catherine Finegan. The family fell on hard times, and after living with their grandparents, the family moved to Clayton, Delaware, and eventually to a home in Wilmington, Delaware. His father eventually became a successful used car salesman. At Archmere Academy, the Catholic High School that he attended, Biden was an unexceptional student. He was an outstanding football player and was class President in both his Junior and Senior years.
He went on to the University of Delaware. During Spring Break in the Bahamas, he met Neilia Hunter, from Syracuse New York. Biden decided to go to Law School in Syracuse. On August 26, 1966, he married Hunter. They had three children together. He graduated from Law School in 1968 and returned to Delaware. Biden worked for a short time for a major law firm and then as a public defender. His first political office was on the New Castle County Castle.
In 1972 Biden challenged Republican Senator J Caleb Boggs. His candidacy was considered an extreme long shot, as he started the campaign with a 30 points deficit from his opponent. However, with a campaign staff made up of his family, he prevailed and won 50.5 percent of the vote. On December 18, 1972, Biden's wife Neilia and his three children drove to do Christmas shopping when a tractor-trailer hit their car. His wife and daughter were killed, while his two sons were injured but survived.
Biden considered withdrawing from the Senate but was convinced to go ahead and become a Senator. He was sworn in at the Wilmington Medical Center, where his sons were recuperating from the accident. Biden decided to commute every day to Washington to be with his sons. Biden met his second wife, Jill Tracy Jacobs, on a blind date. They married on June 17, 1977, and had a daughter together, Ashley.
Biden had a long career in the Senate. Serving until he became Vice President in 2009. During his time in the Senate, Biden served as both the Chairman of the Senate Foreign Relations Committee and the Senate Judiciary Committee. During his tenure as chair of the Judiciary Committee, Biden oversaw the contentious confirmation process of Supreme Court nominees Robert Bork and Clarence Thomas. In terms of Foreign Affairs, he supported the war in Afghanistan and initially favored the war in Iraq, later becoming a critic. He was considered a clear centrist Democrat.
In1988, Biden made an unsuccessful run for the Democratic nomination for the Presidency. In 2007 he once again made a run to win the Democratic nomination for President. He criticized Senator Obama by saying that someday he might make a good President, but at the moment, he did not have the experience. He gained little traction among Democratic voters and soon pulled out. His run had gained him visibility, especially with Senator Obama, who once he clinched the nomination asked him to be his running mate.
Biden was Vice President of the United States from January 2009 to January 2017. As Vice President, Biden played an active role in the Administration. He was responsive, among other things, in ensuring that the stimulus funds were spent correctly. Biden was mostly responsible for relations with and negotiations with Congress during the year tenure of the Administration.
Biden's oldest son died of a brain tumor in 2015 and was a significant factor in his decision not to run for the Presidency in 2016. During his time out of office, there was speculation that he would run for the Democratic nomination in 2020. In January 2019, he announced that he would seek the nomination. A nomination that he clinched by April 2020. He won the election on November 3, 2020
Accomplishments in Office

Ronald Reagan's Presidency was dominated by two major themes: rigorously opposing the Soviets, and less government is best. Reagan believed that the United States had to resist Soviet advances and strengthen its own defenses. He strongly advocated the development of the Strategic Defense Initiative, that was designed to provide a missile defense from an attack. Reagan other theme was that less government was best.
Reagan successfully led the United States to a massive armaments program. A program that was probably responsible to the Soviets decision that they could no longer afford to compete, and in fact were falling far behind. Thus, Perestroika was born, the loosening of the hold of the Soviet State on the Soviet economy. Unfortunately for the Soviets once you begin to loosen control a little in a nation that was held together by fear and coercion you have begun an irreversable process. The Soviet Union would soon fall apart.
Early in his first term Reagan fired striking air traffic controlers, and thus breaking the power of its' union. Reagan passed a massive tax reduction and reform package. The tax package was successful in getting the American economy moving again, but started large deficits that the US is still struggling with today. Reagan was considered the "Great Communicator" and remained extremely popular throughout his Presidency.
The First Family

Father: Joseph Biden Senior
Mother: Catherine Finegan
Wives: Neilia Hunter, Jill Jacobs
Daughters: Naomi,Ashley
Sons: Beua, Hunter
Major Events



The Cabinet
Secretaries of State: Anthony Blinken
Secretaries of The Treasury: Janet Yellen
Secretaries of Defense: Lloyd Austin
Attorney Generals: Merrick Garland
Secretaries of The Interior: Deb Haaland
Secretaries of Agriculture: Tom Vilsack
Secretary of Commerce:Gina Raimondo
Secretary of Labor: Marty Waish
Secretaries of Health and Human Services: Xavier Becerra
Secretary of Housing & Urban Dev.Marcia Fudge
Secretaries of Transportation: Pete Buttigieg
Secretaries of Energy:Jennifer Granholm
Secretaries of Education: Miguel Cardona
Secretary of Veteran Affairs: Dennis McDonough
Secretary of Homeland Security: Alejandro Mayorkas

Did You Know?
.
Oldest President
Second Catholic President
Oldest President when inaugurated.