March 1941 - Battle of Matapan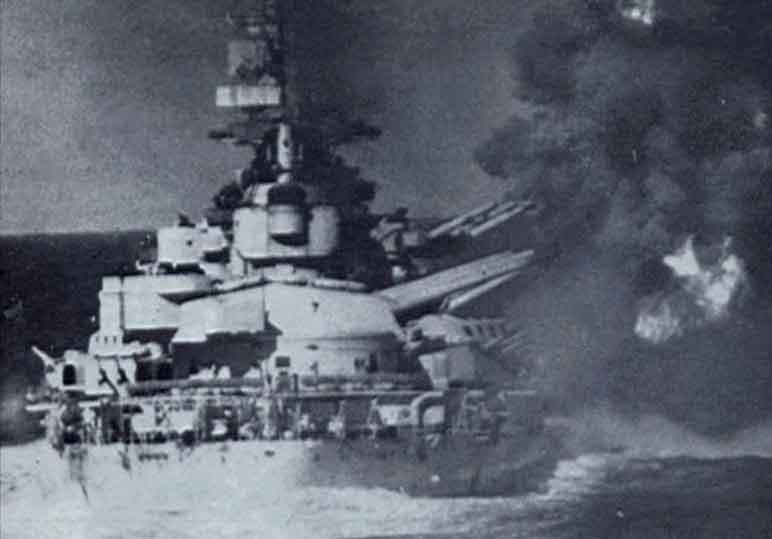 The Italian Battleship Vittorio Veneto firing her 15in guns on British cruisers during a brief engagement near Gaudo Island
The British Navy acheive an overwhelming victory of the Italian navy at the Battle of Matapan. A good part of the Italian fleet was sunk and the British lost no ships. It was the greatest British naval victory of the war and effectively ended the Italian navy participation in the war.
---
On March 17th a British patrol plane spots the Italian Naval Division 3 who is moving to attack British shipping. The British scrambled their entire fleet from Alexandria which included the battleships Valiand, Barham and Warspite and the aircraft carrier Formidible.
The Italian Force was led by Vice Admiral Angelo Iachino and included the battleship Vittorio Veneto, the British force was led by Admiral Cunningham.
Cunnigham cruisers engaged part of the Italian force on March 28th. In the meantime Cunninghams main force was closing. When the British aircraft attacked, the Italians changed course and began to withdraw. Cunnighman then launched successive air attacks against the Italian fleet. The Vittorio Veneto was hit and forced to slow down, but was soon making 20 knots. The cruiser Polo was seriously damaged and two other cruisers and four destroyers were detached to escort the Pola. Cunnighams main force of battleships then struck the Italian cruiser in the middle of the night, Within three minutes the Italian cruisers Zara and Fiume were sunk. The destroyers Affeieri and Carducci soon followed. Finally, the partially disabled cruiser Pola was boarded and captured. It was the greatest British naval victory since Trafalgar.