San Francisco I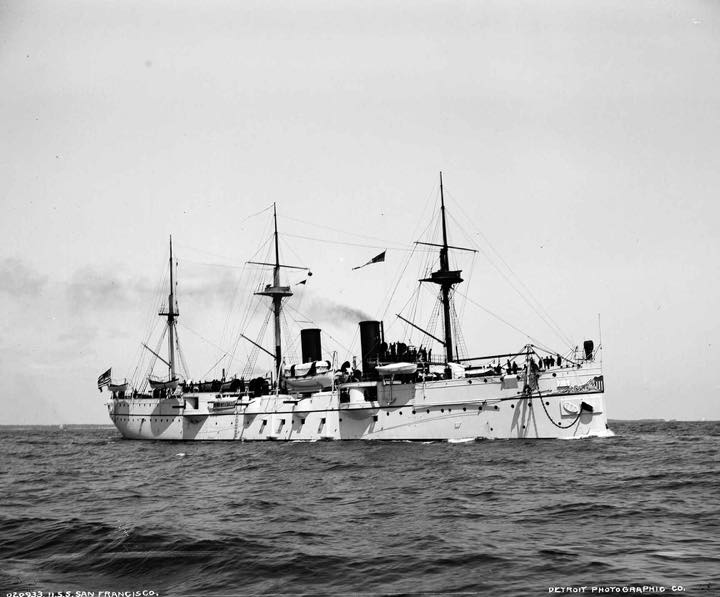 San Francisco I
A city in California.
(Cruiser No. 5: dp. 4,088, 1. 324'6" b. 49'2", dr. 18'10" (mean), s. 19 k., cpl. 384; a. i2 6", 4 6-pdrs. 4 3-pdrs.; cl. San Francisco )
The first San Francisco, a steel protected cruiser was launched on 26 October 1889 at the Union Iron Works, San Francisco, Calif., sponsored by Miss Edith W. Benham, and commissioned on 15 November 1890 Capt. William T. Sampson in command.
Assigned to the South Pacific Squadron, San Francisco moved south and became the squadron's flagship on 31 March 1891. Five months later, as an eightmonth-old civil war drew to a close in Chile, she landed a force of sailors and marines to protect the United States Consulate. September brought an end to the war, and San Francisco resumed her cruising off the South American coast. With the new year, 1892, she sailed north and west and arrived at Honolulu on 27 February as political differences deepened between monarchists and republicans. Through the spring, friction increased; and San Francisco, with others of the unofficial international "police force," deterred extreme action. The unrest, complicated by diplomatic maneuvering, continued through the year and was climaxed by the January 1893 revolution. But, San Francisco, having departed Hawaii in August 1892, was then en route to Norfolk, where she arrived in February 1893.
San Francisco became the flagship of the North Atlantic Squadron on 31 May and cruised off the New England coast into the fall. In November, she sailed south, visited ports in the Caribbean, and, in late December, reached Rio de Janeiro and assumed flagship duties for the South Atlantic Squadron. She called at ports in Brazil, the Netherlands West Indies, Colombia, Costa Rica, and Nicaragua during the next six months, then returned to the United States, anchoring at New York on 29 July 1894.
1895 brought further overseas duty, and, in January, she crossed the Atlantic to cruise in the eastern Mediterranean as political tension within the Ottoman Empire caused diplomatic uneasiness. Later shifted to other areas, she remained in European waters until 1896. In March of that year, she returned to the United States; cruised off the east coast until the outbreak of war against Spain in April 1898, then took up patrol duties along the Florida coast and off Cuba. In July, Spain requested terms, and, in August, San Francisco returned to Hampton Roads. She was placed out of commission at the Norfolk Navy Yard on 25 October.
Recommissioned on 2 January 1902, San Francisco was again assigned to the European Squadron. In September, she returned to the United States and commenced operations southward into the Caribbean. Another cruise to the Mediterranean, thence on to Asiatic ports, followed; and, in the fall of 1904, the protected cruiser again entered the Norfolk Navy Yard, where she was decommissioned on 31 December.
In June 1908, San Francisco was ordered refitted as a mine vessel, and, in 1910, she was rearmed with 8 5" guns. On 21 August 1911, she was recommissioned but retained in reserve; and, after participation in the Fleet Review at New York, she was placed in full commission on 29 November 1911.
Designated a mine planter on 19 December 1912, she remained based at Norfolk and operated in the western Atlantic and the Caribbean into 1916, when she was again ordered inactivated. She was placed in reserve at Portsmouth, N.H., on 6 June 1916, but resumed full commissioned status again on 18 October.
With the April 1917 entry of the United States into World War I, San Francisco began laying antisubmarine nets in the Hampton Roads area. In June, she shifted to New York, whence she conducted experimental deep water minelaying operations, and, during Au gust, she underwent overhaul at the Portsmouth Navy
Yard. In mid-September, she moved back down the coast to New London where she provided net laying services until ordered to Norfolk for training duty later in the fall. From December 1917 to March 1918, she underwent an extensive overhaul; and, in April, she became flagship of Mine Squadron 1.
In early May, the squadron assembled at Newport. On the 12th, the ships sailed for the United Kingdom. On the 26th, units of the Royal Navy escorted the ships into Inverness; and, within two weeks, the squadron had joined the Allied effort of creating the Northern Mine Barrage across the North Sea to restrict German submarine traffic into the Atlantic.
San Francisco conducted minelaying operations until the Armistice on 11 November. Minesweepers then moved in, and San Francisco prepared to return home. She departed Inverness on 2 December and arrived in Hampton Roads on 3 January 1919. Overhaul followed after which she cruised in the western Atlantic and Caribbean through 1921. Designated CM-2 on 17 July 1920, she was ordered inactivated in 1921; and, on 6 October, she arrived at Philadelphia where she was decommissioned on 24 December.
Remaining in reserve through the decade, CM-2 was renamed Tahoe, and then Yosemite, effective 1 January 1931, to allow the name San Francisco to be given to Cl,-38, then under construction. As Yosemite, she remained at Philadelphia for another eight years. Her name was struck from the Navy list on 8 June 1937, but she was retained at the Navy Yard until sold for scrapping to the Union Shipbuilding Co., Baltimore Md., on 20 April 1939.