USS Maine BB-10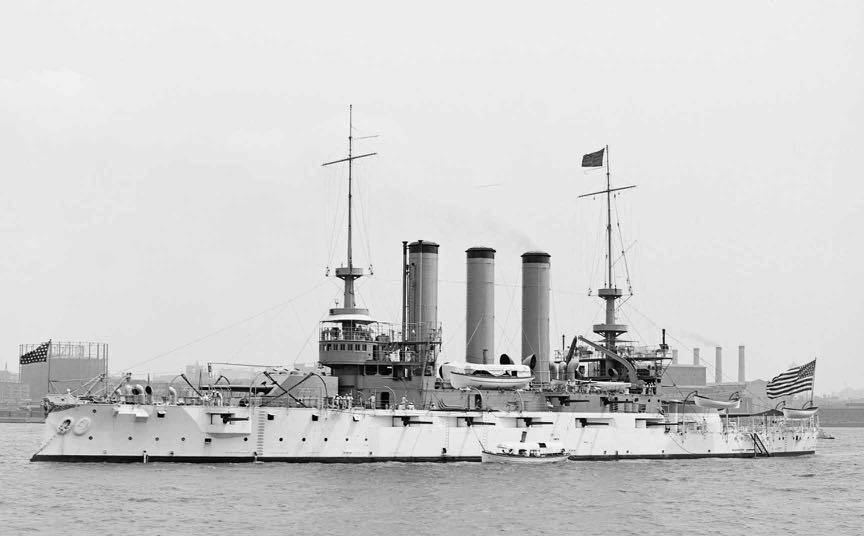 (Battleship No. 10: dp. 12,846 (n.); 1. 393'11"; b. 72'3"; dr. 24'4"; s. 18 k.; cpl. 56l; a. 4 12", 16 6", 6 3", 8 3-pdrs., 6 1-pdrs., " 18" tt.; cl. Maine)
The second Maine ( Battleship No. 10) was laid down by William Cramp & Sons, Philadelphia, Pa., 15 February 1899, a year to the day after the destruction of the first Maine, Launched 27 July 1901, sponsored by Miss Mary Preble Anderson, and commissioned at Philadelphia 29 December 1902, Capt. Eugene H. C. Leutze in command.
From 1903 to 1907 Maine cruised along the Atlantic Coast south to the West Indies, and she completed one cruise to the Mediterranean. On 16 December 1907 she left Hampton Roads with the rest of the Atlantic Fleet en route to the Pacific where she joined ships of that fleet for a cruise around the world. In company with the Alabama, she went to Guam and the Philippines, through the Suez Canal and the Mediterranean, and returned to the Atlantic coast in October 1908, considerably in advance of the rest of the "Great White Fleet."
Fitted out as flagship of the 3d Squadron, Atlantic Fleet, Maine resumed operations along the Atlantic coast and into Caribbean waters during the next several months. She decommissioned at Portsmouth, N.H., 31 August 1909. Recommissioned 15 June 1911, Maine operated along the east coast. During World War I, she trained engineers, armed guard crews, and midshipmen. Following the defeat of the Central Powers, she took part in the review of the fleet at New York 26 December 1918.
Maine operated with ships of the Atlantic Fleet until 15 May 1920 when she decommissioned at Philadelphia Navy Yard. Classified as BB-10 on 17 July 1920, she was sold to J. G. Hitner & W. F. Cutler of Philadelphia, Pa., 23 January 1922, rendered incapable of further warlike service 17 December 1923; and subsequently broken up and scrapped in accordance with terms of the Washington treaty limiting naval armaments.