USS New York BB-34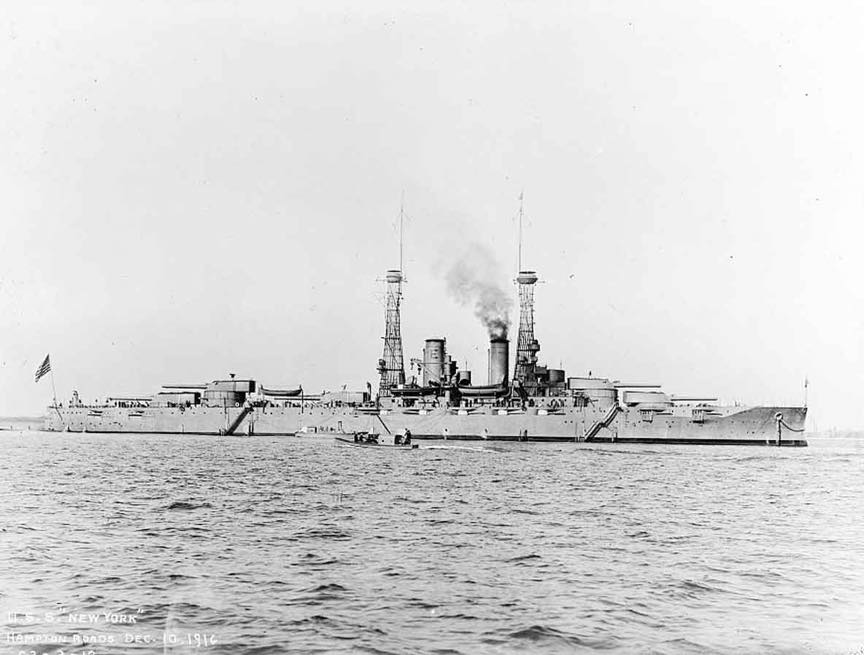 New York V
(BB-34: dp. 27,000, 1. 57 3', b. 95'3", dr. 28'6", s. 21 k. cpl. 1,042; a. 10 14", 21 . 5", 4 21" tt. ; cl. New York)
The fifth New York (BB-34) was laid down 11 September 1911 by Brooklyn Navy Yard, New York, launched 30 October 1912, sponsored by Miss Elsie Calder, and commissioned 15 April 1914, Captam Thomas S. Rodgers in command.
Ordered south soon after commissioning, New York was flagship for Rear Admiral Frank Fletcher, commanding the fleet occupying and blockading Vera Cruz until resolution of the crisis with Mexico in July 1914. New York then headed north for fleet operations along the Atlantic coast as war broke out in Europe.
Upon the entry of the United States into the war, New york sailed as flagship with Battleship Division 9 commanded
by Rear Admiral Hugh Rodman to strengthen the British Grand Fleet in the North Sea, arriving Scapa Flow 7 December 1917. Constituting a separate squadron in the Grand Fleet, the American ships joined in blockade and escort missions and by their very presence so weighted the Allies' preponderance of naval power as to inhibit the Germans from attempting any major fleet engagements. New York twice encountered U-boats.
During her World War I service, New York was frequently visited by royal and other high-ranking representatives of the Allies, and she was present for one of the most dramatic moments of the war, the surrender of the German High Seas Fleet in the Firth of Forth 21 November 1918. As a last European mission Ne, D York joined the ships escorting President Woodrow Wilson from an ocean rendezvous to Brest en route the Versailles Confernce
Returning to a program which alternated individual and fleet exercises with necessary maintenance, NY York trained in the Caribbean in spring 1919, and that summer joined the Pacific Fleet at San Diego, her home port for the next 16 years. She trained off Hawaii and the West Coast, occasionally returning to the Atlantic and Caribbean for brief missions or overhauls. In 1937, carrying Admiral Hugh Rodman, the President's personal representative for the coronation of King George VI of England, New York sailed to take part in the Grand Naval Review of 20 May 1937 as sole U. S. Navy representative.
For much of the following 3 years, New York trained Naval Academy midshipmen and other prospective officers with cruises to Europe, Canada, and the Caribbean, and in mid1941 she joined the Neutrality Patrol. She escorted troops to Iceland in July 1941, then served as station ship at Argentia Newfoundland, protecting the new American base there. From America's entry into World War II, Neve York guarded Atlantic convoys to Iceland and Scotland when the U-boat menace was gravest. Submarine contacts were numerous, but the convoys were brought to harbor intact.
New York brought her big guns to the invasion of North Africa, providhlg crucial gunfire support at Safi 8 November 1942. She then stood by at Casablanca and Fedhala before returning home for convoy duty escorting critically needed men and supplies to North Africa. She then took up important duty training gunners for battleships and destroyer escorts in Chesapeake Bay, rendering this vital service until 10 June 1944, when she began the first of 3 training cruises for the Naval Aeademy, voyaging to Trinidad on each.
Neu' York sailed 21 November for the West Coast, arriving San Pedro 6 December for gunnery training in preparation for amphibious operations. She departed San Pedro 12 January 1945, called at Pearl Harbor, and was diverted to Eniwetok to survey screw damage. Nevertheless, despite impaired speed, she joined the Iwo Jima assault force in rehearsals at Saipan. She sailed well ahead of the main body to join in preinvasion bombardment at Iwo Jima 16 February. During the next 3 days, she fired more rounds than any other ship present; and, as if to show what an old-timer could do, made a spectacular direct 14"-hit on an enemy ammunition dump.
Leaving Iwo Jima, New York at last repaired her propellers at Manus, and had speed restored for the assault on Okinawa which she reached 27 March to begin 76 consecutive days of action. She fired preinvasion and diversionary bombardments covered landings, and gave days and nights of close support to troops advancing ashore. She did not go unscathed; a kamikaze grazed her 14 April, demolishing her spotting plane on its catapult. She left Okinawa 11 June to regun at Pearl Harbor.
New York prepared at Pearl Harbor for the planned invasion of Japan, and after war's end, made a voyage to the West Coast returning veterans and bringing out their replacements. She sailed from Pearl Harbor again 29 September with passengers for New York, arriving 19 October. Here she prepared to serve as target ship in operation "Crossroads," the Bikini atomic tests, sailing 4 March 1946 for the West Coast. She left San Francisco 1 May, and after ealls in Pearl Harbor and Kwajalein, reached Bikini 15 June. Surviving the surface blast 1 July and the underwater explosion 2. ; July, she was taken into Kwajalein end decommissioned there 29 August 1946. Later towed to Pearl Harbor, she was studied during the next two years, and on 8 July 1948 was towed out to sea some 40 miles and there sunk after an 8-hour pounding by ships and planes carrying out full-scale battle maneuvers with new weapons.
New York received 3 battle stars for World War II service.