CV-1 USS Langley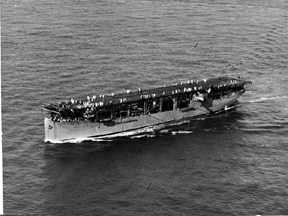 Langley
(AC-3: dp. 19,360; 1. 542'; b. 65'; dr. 27'8"; s. 15 k.:cpl.
163; a. 4 4")

Jupiter (AC—3) was slid down 18 October 1911 by Mare Island Navy Yard, Vallejo, Calif.; launched 24 August 1912; sponsored by Mrs. Thomas F. Ruhm; and commissioned(t 7 April 1913, Comdr. Joseph M. Reeves in command.

After successfully passing her trials, Jupiter, the first electrically propelled ship of the U.S. Navy, embarked a submarine detachment at San Francisco and reported to the Pacific Fleet at Mazaltlan, Mexico, 27 April 1914, bolstering US. naval strength on the Mexican Pacific coast during the tense days of the Vera Cruz crisis. She remained off the Pacific coast until she departed for Philadelphia, 10 October. In route the collier steamed through the Panama Canal on Columbus Day—the first vessel to transit it from west to east.

Prior to America's entry into World War I, she cruised the Atlantic and the Gulf of Mexico attached to the Atlantic Fleet Auxiliary Division. The ship arrived Norfolk 6 April 1917, and, assigned to NOTS, interrupted her coaling operations by two cargo voyages to France in June 1917 and November 1918. She was back in Norfolk 23 January 1919 whence she sailed for Brest, France, 8 March for coaling duty in European waters to expedite the return of victorious veterans to the United States. Upon reaching Norfolk 17 August, the ship was transferred to the west coast. Her conversion to an aircraft carrier was authorized 11 July 1919. and she sailed to Hampton Roads, Va., 12 December where she decommissioned 24 March 1920.

Jupiter was converted into the first U.S. aircraft carrier at the Navy Yard, Norfolk, Va., for the. purpose of conducting experiments in the new idea of seaborne aviation, a field of unlimited possibilities. Her name w as changed to Langley 21 April 1920; she was classified CV-1 and commissioned 20 March 1922, Comdr. Kenneth Whiting in command. Her statistics as an aircraft carrier are: CV-1: dp. 11,500; l. v42'; b. 6v', ev.. 65'

dr. 18'11"; s. 15 k.; colt 468; a. 4 5", act 55 (max.), cl. Langley.

As the first Navy carrier, Langley was the scene of numerous momentous events. On 17 October 1922 Lt. Virgil C. Griffln piloted the first plane, a VE-7- SF, launched from her decks. Though this was not the first time an airplane had taken oft from a ship, and though Langley was not the first ship with an installed flight deck this one launching was of monumental importance to the modern U.S. Navy. The era of the aircraft carrier was born introducing into the Navy what was to become the vanguard of its forces in the future. With Langley underway 9 days later, Lt. Comdr. a. DeC. Chevalier made the first landing in an Aeromarine. On 18 November Commander Whiting, at the controls of a PT, was the first aviator to be catapulted from a carrier's deck.

By 15 January 1923 Langley had begun flight operations and tests in the Caribbean for carrier landings. In June she steamed to Washington, D.C., to give a demonstration at a flying exhibition before civil and military dignitaries. She arrived Norfolk 13 June and commenced training along the Atlantic coast and Caribbean which carried her through the end of the year. In 1924 Langley participated in more maneuvers and exhibitions, and spent the summer at Norfolk for repairs and alterations. She departed for the west coast late in the year and arrived San Diego 29 November to join the Pacific Battle Fleet. For the next 12 years she operated off the California coast and Hawaii engaged in training fleet units, experimentation, pilot training, and tactical-fleet problems. On 25 October 1936 she put into Mare Island Navy Yard, Calif., for overhaul and conversion to a seaplane tender. Though her career as a carrier had ended, her well trained pilots proved invaluable to the next two carriers, Lexington ( CV-2) and Saratoga ( CV-3) .

Langley completed conversion 26 February 1937 and was reclassified AV-3 on 21 April. She was assigned to Aircraft Scouting Force and commenced her tending operations out of Seattle, Sitka, Pearl Harbor, and San Diego. She departed for a brief deployment with the Atlantic Fleet from 1 February to 10 July 1939, and then steamed to assume her duties with the Pacific fleet at Manila arriving 24 September.

At the outbreak of World War II, Langley was anchored off Cavite, Philippine Islands. She departed 8 December and proceeded to Balikpapan, Borneo, and Darv, in Australia, where she arrived 1 January 1942. Until 11 January Langley assisted the RAAF in running antisubmarine patrols out of Darwin. She was then assigned to American-British-Dutch-Australian forces assembling in Indonesia to challenge the Japanese thrust in that direction. She departed Freemantle, Australia, 22 February in convoy, and left the convoy 5 days later to deliver 32 P-40's to TjilatJap, Java.

Early in the morning 27 February, Langley rendezvoused with her antisubmarine screen, destroyers Whipple (DD-217) and Edsall (DD-219). At 1140 nine twin engine enemy bombers attacked her. The first and second Japanese strikes were unsuccessful; but during the third Langley took five hits. Aircraft topside burst into flames, steering was impaired, and the ship took a 10° list to port. Unable to negotiate the narrow mouth of TjilatJap Harbor, Langley went dead in the water as inrushing water flooded her main motors. At 1332 the order to abandon ship was passed. The escorting destroyers fired nine 4 inch shells and two torpedoes into the old tender to insure her sinking. She went down about 75 miles south of Tjilatjap with a loss of 16.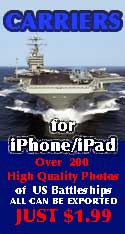 Navalshopping.com
For Caps, Jackets,T- Shirts,
Plaques,
Windbreakers,
Mouspads and Books.
Your Perfect Source for Naval Gifts