Ranger CVA-61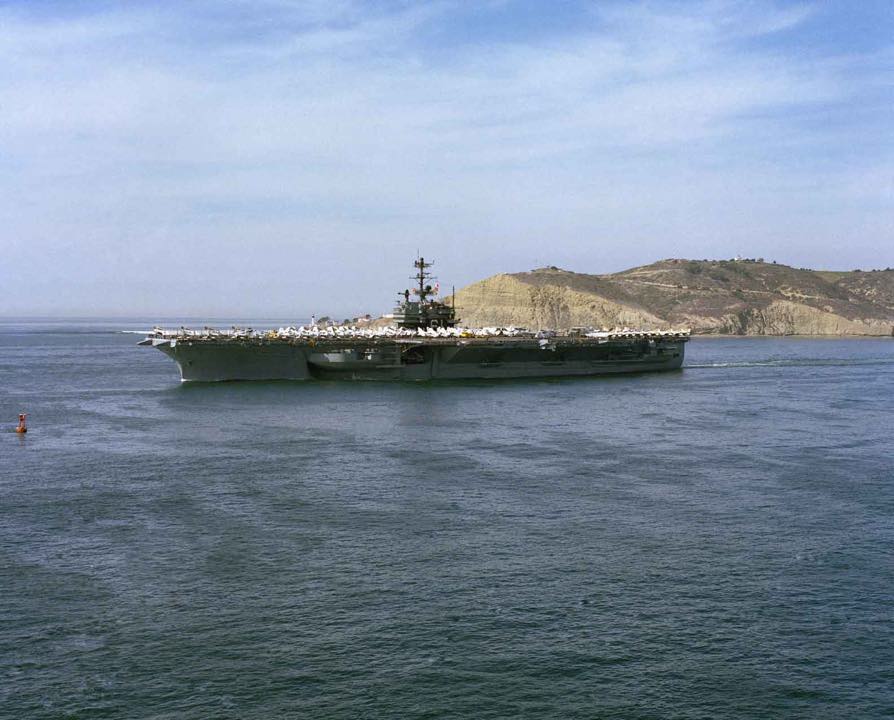 CVA 61: dp. 56,300 (l.); 1. 1,046'; b. 236'; ew. 249'6"; dr. 37'; s. 34 k.; cpl. 3,826; a. 8 5"; cl. Forrestal)
The seventh Ranger( CVA 61), a Forrestal-class aircraft carrier, was laid down 2 August 1954 by Newport News Shipbuilding & Drydock Co.,Newport News, Va.; launched 29 September 1956; sponsored by Mrs. Arthur Radford, wife of Admiral Radford, Chairman of the Joint Chiefs of Staff;and commissioned at the Norfolk Naval Shipyard 10 August 1957, Capt CharlesT. Booth II, in command.
Ranger joined the Atlantic Fleet 3 October 1957. Just prior to sailing4 October for Guantanamo Bay, Cuba, for shakedown, she received the men and planes of Attack Squadron 85. She conducted air operations, individualship exercises, and final acceptance trials along the eastern seaboard and in the Caribbean Sea until 20 June 1958. She then departed Norfolk, Va.,with 200 Naval Reserve officer candidates for a 2-month cruise that took the carrier around Cape Horn. She arrived at her new homeport, Alameda,Calif., on 20 August and joined the Pacific Fleet.
The carrier spent the remainder of 1958 in pilot qualification training for Air Group 14 and fleet exercises along the California coast. Departing 3 January 1959 for final training in Hawaiian waters until 17 February,she next sailed as the flagship of Rear Adm. H. H. Caldwell, ComCarDiv 2,to join the 7th Fleet. Air operations off Okinawa were followed by maneuverswith SEATO naval units out of Subic Bay. A special weapons warfare exercise and a patrol along the southern seaboard of Japan followed. During thisfirst WestPac deployment, Ranger launched more than 7,000 sorties in supportof 7th Fleet operations. She returned to San Francisco Bay 27 July.
During the next 6 months, Ranger kept herself in a high state of readiness through participation in exercises and coastal fleet operations. With CarrierAir Group 9 embarked, she departed Alameda 6 February 1960 for a second WestPac deployment and returned to Alameda 30 August. From 11 August 1961through 8 March 1962, Ranger deployed to the Far East a third time.
The next 7 months were filled with intensive training along the western seaboard in preparation for operations in the troubled waters of Southeast Asia. Ranger departed Alameda on 9 November for brief operations off Hawaii,thence proceeded via Okinawa to the Philippines. She steamed to the SouthChina Sea 1 May 1963 to support possible Laotian operations. When the politicalsituation in Laos relaxed 4 May, she resumed her operations schedule withthe 7th Fleet. Arriving at Alameda from the Far East 14 June 1963, she underwentoverhaul in the San Francisco Naval Shipyard 7 August 1963 through 10 February1964. Refresher training out of Alameda commenced 25 March, interruptedby an operational cruise to Hawaii from 1 q June to 10 July.
Ranger again sailed for the Far East 6 August 1964. This deployment cameon the heels of the unprovoked assault against Maddox (DD-731) on the nightof 2 August and, two nights later, against both Maddox and Turner Joy (DD-951)by North Vietnamese motor torpedo boats. In retaliation for this aggressionon the high seas by North Vietnam, President Johnson on 5 August directedthe Navy to strike bases used by the North Vietnamese naval craft. As Rangersteamed from the western seaboard, some 60 attack sorties rose from thedecks of Ticonderoga (CVA 14) and Constellation (CVA-64).
Ranger made only an 10 hour stop in Pearl Harbor 10 August then hurriedon to Subic Bay, thence to Yokosuka, Japan. In the latter port on 17 October1964, she became flagship of Rear Admiral Miller who commanded Fast CarrierTask Force 77. In the following months, she helped the 7th Fleet continueits role of steady watchfulness to keep open the sealanes for the Alliesand stop Communist infiltration by sea.
Gen. William Westmoreland, commanding the Military Advisory Command inVietnam, visited Ranger on 9 March 1965 to confer w ith Rear Admiral Miller.Ranger continued air strikes on enemy inland targets until 13 April whena fuel line broke, ignited, and engulfed her No. 1 main machinery room inflames. The fire was extinguished in little over an hour. There was onefatality. She put into Subie Bay 15 April and sailed on the 20th for Alameda,arriving home on 6 May. She entered the San Francisco Naval Shipyard 13May and remained there under overhaul until 30 September.
Following refresher training, Ranger departed Alameda on 10 December1965 to rejoin the 7th Fleet. She and her embarked Carrier Air Wing 14 receivedthe Navy Unit Commendation for exceptionally meritorious service duringcombat operations in Southeast Asia from 10 January to 6 August 1966.
Ranger departed the Gulf of Tonkin 6 August for Subic Bay, thence steamedvia Yokosuka for Alameda, arriving on the 25th. She stood out of San Franciscoflay 28 September and entered Puget Sound Naval Shipyard 2 days later foroverhaul. The carrier departed Puget Sound 30 May 1967 for training outof San Diego and Alameda. On 21 July 1967, she logged her 88,000th carrierlanding.
From June until November, Ranger underwent a long and intensive periodof training designed to make her fully combat ready. Attack Carrier AirWing 2 (CVW-2) embarked on 15 September 1967, with the new Corsair II jetattack plane and the UH-2C Seasprite turboprop rescue helicopter, makingRanger the first carrier to deploy with these powerful new aircraft. Fromcarrier refresher training for CVW-2, Ranger proceeded to fleet exercise"Moon Festival." From 9 to 16 October, the carrier and her airwing participated in every aspect of a major fleet combat operation.
Her efficiency honed to a fine edge, Ranger departed Alameda 4 November1967 for WestPac. Arriving Yokosuka 21 November, she relieved Constellationand sailed for the Philippines on the 24th. After arriving at Subie Bayon 29 November, she made final preparations for combat operations in theTonkin Gulf. Commander, Carrier Division 3, embarked on 30 November as Commander,TG 77.7, and Ranger departed Subic Bay on 1 December for Yankee Station.
Arriving on station 3 December 1967, Ranger commenced another periodof sustained combat operations against North Vietnam. During the next 5months, her planes hit a wide variety of targets, including ferries, bridges,airfields, and military installations. Truck parks, rail facilities, antiaircraftguns and SAM sites were also treated to doses of Air Wing 2's firepower.Bob Hope's "Christmas Show" came to Ranger in Tonkin Gulf on 21December. Another welcome break in the intense pace of operations came witha call at Yokosuka during the first week of April. Returning to Yankee Stationon 11 April, Ranger again struck objectives in North Vietnam.
After 5 months of intensive operations, Ranger called at Hong Kong 5May 1968 and then steamed for home. There followed a shipyard availability at Puget Sound that ended with Ranger's departure 29 July for San Francisco.Three months of leave, upkeep, and training culminated in another WestPacdeployment 26 October 1968 through 17 May 1969. She departed Alameda on yet another WestPac deployment in December 1969 and remained so employeduntil 18 May 1970 at which time she returned to Alameda, arriving 1 June.Ranger spent the rest of the summer engaged in operations off the west coast,departing for her sixth WestPac cruise 27 September. She returned to Alamedaon 7 June 1971 and remained in port for the rest of 1971 and the first 5months of 1972 undergoing regular overhaul. On 27 May 1972 she returnedto west coast operations until 16 November, when she embarked upon her seventhWestPac deployment. Ranger returned to Alameda in August 1973 and remained in that area through 7 May 1974 when she deployed again to the western Pacific, returning to homeport on 18 October. On 28 May 1976, while on deployment, helicopters crews from HS-4 aboard Ranger, detachments from HC-3 on USS Camden (AOE 2), USS Mars (AFS 1) and USS White Plains (AFS 4), and helicopters from NAS Cubi Point, Republic of the Philippines, assisted in Philippine disaster relief efforts in the flood ravaged areas of central Luzon. Over 1,900 people were evacuated; more than 370,000 pounds of relief supplies and 9,340 gallons of fuel were provided by Navy and Air Force helicopters.

On 12 July 1976, Ranger and her escort ships of Task Force 77.7 entered the Indian Ocean and were assigned to operate off the coast of Kenya in response to a threat of military action in Kenya by Ugandan forces.

Ranger entered the history books on 21 March 1983 when an an all-woman flight crew flying a C-1A Trader from VRC-40 "Truckin' Traders" landed aboard the carrier. The aircraft was commanded by Lt. Elizabeth M. Toedt and the crew included Lt.(j.g.) Cheryl A. Martin, Aviation Machinist's Mate 3rd Class Gina Greterman and Aviation Machinist's Mate Airman Robin Banks.

On 24 July 1987, Tactical Electronics Warfare Squadron 131 (VAQ 131) began the first Pacific Fleet deployment of the EA-6B Prowler equipped with HARM missiles, deployed in Ranger.

On 3 August 1989, Ranger rescued 39 Vietnamese refugees, adrift for 10 days on a barge in heavy seas and monsoon rains in the South China Sea, about 80 miles from NAS Cubi Point, R.P. SH-3s Sea Kings from HS-14 assisted. An A-6 Intruder from VA-145 spotted the barge, which had apparently broken loose from its mooring near a small island off the coast of Vietnam with 10 men on board. Twenty-nine other refugees from a sinking refugee boat climbed aboard the barge when it drifted out to sea. After examination by medical personnel, all were flown to NAS Cubi Point for further processing.

President George H.W. Bush addressed the nation on 16 January 1991 at 9 p.m. EST and announced that the libration of Kuwait from Iraq, Operation Desert Storm, had begun. The Navy launched 228 sorties from Ranger and USS Midway (CV 41) in the Persian Gulf, from USS Theodore Roosevelt (CVN 71) enroute to the Gulf, and from USS John F. Kennedy (CV 67), USS Saratoga (CV 60), and USS America (CV 66) in the Red Sea. In addition, the Navy launched more than 100 Tomahawk missiles from nine ships in the Mediterranean Sea, the Red Sea, and the Persian Gulf.

On 6 February 1991, an F-14A Tomcat from VF-1, off Ranger, piloted by Lt. Stuart Broce, with Cmdr. Ron McElraft as Radar Intercept Officer, downed an Iraqi MI-8 Hip helicopter with an AIM-9M Sidewinder missile. At 9 p.m. EST on 27 February, President Bush declared Kuwait had been liberated and Operation Desert Storm would end at midnight.

On 21 April 1992, in harmony with other World War II 50th Anniversary festivities, Ranger participated in the commemorative re-enactment of the Doolittle Raid on Tokyo, Japan. Two World War lI-era B-25 bombers were craned on board and over 1,500 guests (including national, local and military media) were embarked to witness the two vintage warbirds thunder down Ranger's flight deck and take off. In June, Ranger made an historic port visit to Vancouver, British Columbia in conjunction with her final phase of pre-deployment workups.

Fully combat ready, Ranger began her 21st and final western Pacific and Indian Ocean deployment on 1 August 1992. On August 18, she entered Yokosuka, Japan, for a six-day port visit and upkeep. Ranger entered the Arabian Gulf on 14 September by transiting the Straits of Hormuz. The next day, Ranger relieved USS Independence (CV-62) in an unusual close aboard ceremony and along with her embarked Air Wing, Carrier Air Wing TWO, immediately began flying patrol missions in support of the United Nations' declared "No Fly" zone in southern Iraq: Operation Southern Watch.

While in the Arabian Gulf, former Cold War adversaries became at-sea partners as Ranger, British and French naval forces joined with the Russian guided missile destroyer Admiral Vinogradov for an exercise involving communication, maneuvering and signaling drills. During joint operations, a Russian KA-27 Helix helicopter landed aboard Ranger. It was the first such landing on a U.S. Navy aircraft carrier.

Ranger left the Gulf on 4 December 1992 and steamed at high speed to the coast of Somalia. Ranger played a significant role in the massive relief effort for starving Somalis in Operation Restore Hope. The Ranger/CVW-2 team provided photo and visual reconnaissance, airborne air traffic control, logistics support and on-call close air support for Navy and Marine amphibious forces. Throughout Operations Southern Watch and Restore Hope, Ranger took 63 digital photographs which were sent by International Marine Satellite to the Navy Office of Information within hours of being taken. This was the first time digital pictures were successfully transmitted from a ship at sea.

On 19 December 1992, Ranger was relieved on station by USS Kitty Hawk (CV 63) and began her last long journey homeward to San Diego.

Ranger was decommissioned on 10 July 1993, and is at the Naval Inactive Ship Maintenance Facility, Bremerton, Wash.

Ranger earned 13 battle stars for service in Vietnam.