CVN-68 USS Nimitz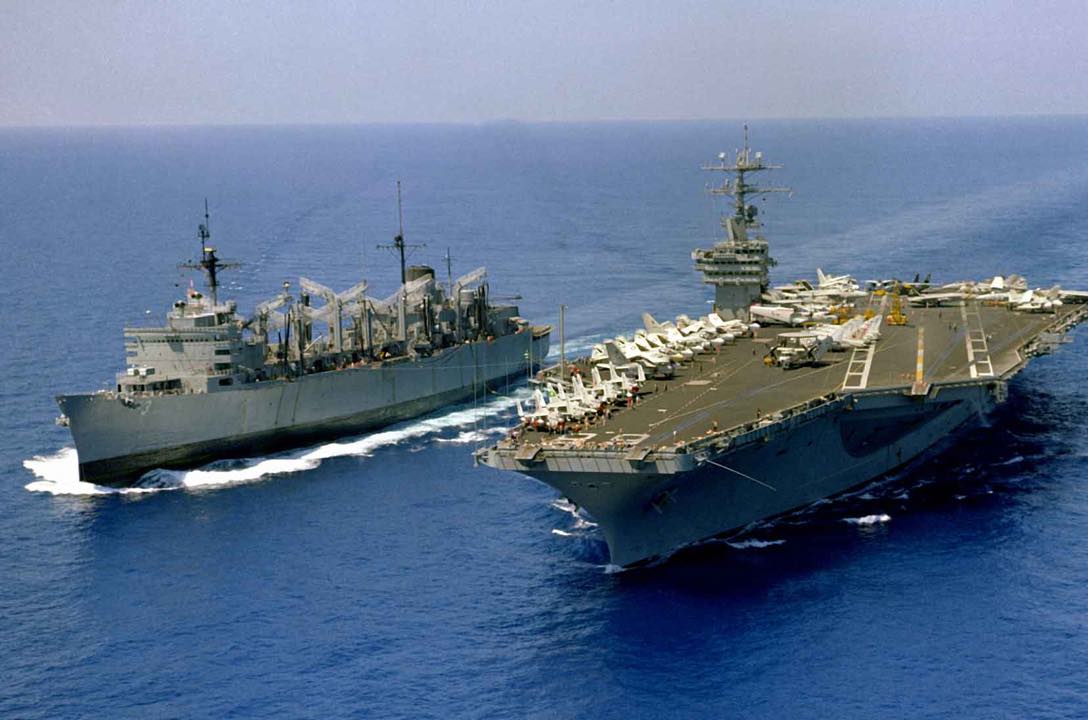 USS Nimitz has answered its country's call many times in response to regional and international crises. In doing so, the aircraft carrier has secured a prominent place in history, just like her namesake, Fleet Admiral Chester W. Nimitz.

The keel of USS Nimitz (CVN 68) was laid on June 22, 1968 at Newport News Shipbuilding and Dry Dock Company in Newport News, Virginia. It was destined to become the largest warship ever. The ship was commissioned May 3, 1975, at Pier 12, Naval Station Norfolk, Va. by the Honorable Gerald R. Ford, President of the United States. Principal guests included: the Honorable James R. Schlesinger, Secretary of Defense; the Honorable J. William Middendorf, II, Secretary of the Navy; Admiral James L. Holloway, III, Chief of Naval Operations and Mrs. James T. Nimitz-Lay, Ship's Sponsor.

Speaking to a crowd of over 20,000, the President said in his remarks: "Wherever the United States Ship Nimitz shows her flag, she will be seen as we see her now - a solid symbol of United States strength; United States resolve. Made in America and manned by Americans. Whether its mission is one of defense, diplomacy or humanity, Nimitz will command awe and admiration from some, caution and circumspection from others and respect from all."

Today's crew stands ready, as did the commissioning crew, to answer their nation's call and take their place in America's maritime heritage.

Nimitz' first deployment began on July 7, 1976 when it departed Norfolk for the Mediterranean. Included in the task force were the nuclear-powered cruisers USS SOUTH CAROLINA and USS CALIFORNIA. The deployment marked the first time in 10 years that nuclear-powered ships had deployed to the Mediterranean. In November 1976, Nimitz was awarded the coveted Battle "E" from Commander, Naval Air Forces Atlantic Fleet, for being the most efficient and foremost aircraft carrier in the Atlantic Fleet. The ship returned to Norfolk Feb. 7, 1977 after a seven-month deployment.

Nimitz again sailed toward the Mediterranean Sea Dec. 1, 1977. Following a peaceful deployment, the ship returned home to Norfolk July 20, 1978. During Nimitz' third cruise to the Mediterranean beginning Sept. 10, 1979, it was dispatched to strengthen the U.S. Naval presence in the crucial Indian Ocean area as tensions heightened over Iran's taking of 52 American hostages. Four months later, Operation "Evening Light" was launched from Nimitz in an attempt to rescue the hostages. The rescue was aborted in the Iranian Desert when the number of operational helicopters fell below the minimum needed to transport the attack force and hostages out of Iran. During its deployment, the ship operated 144 continuous days at sea. Nimitz' homecoming on May 26, 1980 was, at the time, the largest given to any carrier battle group returning to the United States since the end of World War II. The ship's crew was greeted by President and Mrs. Carter, members of Congress, military leaders and thousands of families and friends.

On May 15, 1981, Nimitz departed Norfolk for the final phases of her workup schedule for an upcoming Mediterranean Cruise. On the night of May 25, an EA-6B Prowler crash-landed on the flight deck, killing 14 crewmen and injuring 45 others. The carrier returned to port to repair damaged catapults and returned to sea less than 48 hours later to complete its training schedule. On August 18 and 19, 1981 during its fourth deployment, Nimitz and USS FORRESTAL conducted an open ocean missile exercise in the Gulf of Sidra near what Libyan leader Khadafi called the "Line of Death." On the morning of August 19, two Nimitz aircraft from VF-41 were fired upon by Libyan pilots. The Nimitz pilots returned fire and shot both Libyan aircraft from the sky. Newspapers across the country rallied around the incident against terrorist-backing Libya with front-page headlines reading "U.S. 2 - Libya 0."

On June 14, 1985, two Lebanese Shiite Muslim gunmen hijacked TWA Flight 847, carrying 153 passengers and crew, including many Americans. In response, Nimitz was ordered to steam at flank speed to the Eastern Mediterranean, off the coast of Lebanon, where it remained until August. After another extended deployment, Nimitz left the Mediterranean on May 21, 1987. It crossed the Atlantic Ocean, rounded the rough waters of Cape Horn, South America, and sailed for the first time in the waters of the Pacific Ocean enroute to its new homeport, Bremerton, Wash. Nimitz arrived there July 2, 1987.

In September, 1988, the ship operated off the South Korean coast to provide security for the Olympic Games in Seoul. On Oct. 29, 1988 Nimitz began operating in the North Arabian Sea where it participated in Operation "Earnest Will." This operation called for U.S. Navy ships to protect shipping lanes and escort U.S. registered (re-flagged) Kuwaiti tankers. On Feb. 25, 1991, Nimitz departed Bremerton for the Western Pacific and eventually the Arabian Gulf, where it relieved USS RANGER, during Operation Desert Storm. The ship returned to Bremerton Aug. 24, 1991. Nimitz again deployed Feb. 1, 1993 to the Arabian Gulf, relieving USS KITTY HAWK to take its place as part of Operation Southern Watch. The ship returned after a mishap-free deployment in August, 1993.

In November, 1995, Nimitz commenced her deployment to the Western Pacific, Indian Ocean, Arabian Gulf, and to the waters off Taiwan, where once again the presence of carrier forces at sea positively influenced events ashore, calming a volatile standoff between mainland China and Taiwan.

On September 1, 1997, Nimitz set out on her latest deployment, an around-the-world cruise that would see the great carrier return to her East Coast roots and begin a multi-year overhaul in the Newport News shipyard where she was built.

The around-the-world deployment promised to be an exciting experience with scheduled port visits ranging from the Far East to the Mediterranean Sea; however, Nimitz was ordered into the Arabian Gulf to support Operation Southern Watch and various United Nation initiatives. Answering each challenge, Nimitz served on station in the Arabian Gulf throughout the holidays and returned to a celebrated and long anticipated homecoming on March 1, 1998.

On May 26, 1998, Nimitz began a mid-life refueling overhaul that will enable her to provide her nation with a second quarter century of service.

Mobility, flexibility and combat readiness are the primary characteristics which highlight Nimitz and her crew. As the lead ship of the world's most powerful and capable class of warships, Nimitz will long be remembered as our nation's finest instrument of peace, power projection and platform for diplomacy.
On 21 September 2001, after sea trials in the Virginia Capes, Nimitz began her transit around South America to her new home port of NAS North Island in San Diego, California, arriving there on 13 November 2001. Aircraft from Carrier Air Reserve Wing 20 were embarked for the transit. From January to May 2002, she underwent a four month post-shakedown maintenance availability at North Island. Nimitz's eleventh operational deployment began on 3 March 2003. [7] She relieved USS Abraham Lincoln in the Persian Gulf in mid-April 2003, launching Carrier Air Wing 11 aircraft sorties over Iraq in support of Operation Iraqi Freedom (OIF) and Afghanistan in support of Operation Enduring Freedom (OEF). She returned to San Diego on 5 November 2003. Nimitz and CVW-11 were awarded the 2003 Battle "E"[8] and Flatley Award[9] in early 2004.
Nimitz, again with CVW-11 embarked, deployed to the Persian Gulf on 7 May 2005, returning on 8 November 2005. [10] This deployment marked three decades of service, and was depicted in the Emmy award winning 2008 PBS documentary series Carrier. In June 2006, Nimitz was awarded the 2005 Battle "E". The carrier departed North Island for her thirteenth deployment on 2 April 2007 to the Arabian Sea, relieving USS Dwight D. Eisenhower in support of OIF. She anchored off Chennai, India on 2 July 2007 as part of efforts to expand bilateral defense cooperation between India and the United States. [ Sailors participated in community work in Chennai prior to departing, on 5 July 2007, along with the destroyer USS Pinckney towards the Persian Gulf. She returned to North Island on 30 September 2007.
On 24 January 2008, Nimitz deployed to the Pacific for a "surge"-deployment. [ On 9 February 2008, two Russian Tu-95 'Bear' bombers overflew the carrier in the Western Pacific. Four F/A-18C Hornets were launched when the bombers were 500 miles (800 km) away from the U. S. ships, and intercepted the bombers 50 miles (80 km) south of Nimitz. Two F/A-18s trailed one of the bombers, which buzzed the deck of the carrier twice, while the other two F/A-18s trailed another TU-95 circling about 50 miles (80 km) away from the carrier. Reportedly, there was no radio communication between the American and Russian aircraft. According to the Department of Defense, one of the two aircraft was said to have flown above Nimitz at an altitude of 2,000 feet (610 m). On the same day, Russian aircraft entered Japanese airspace, which caused the Japanese to raise protest to the Russian ambassador in Tokyo. [1 Again, on 5 March 2008, a Russian bomber came within 3 to 5 nautical miles (6 to 9 km) and flew 2,000 feet (610 m) above Nimitz and its battle group. Two F/A-18 fighters intercepted the Russian aircraft and escorted it out of the area. Nimitz was awarded the Navy Battle "E" for battle efficiency for 2007 along with the Ney award for food service excellence. She returned to her homeport of San Diego, California on 3 June 2008.
Nimitz Strike Group, including CVW-11, departed the States for a scheduled Western Pacific deployment on 31 July 2009, and began to fly combat missions in support of Operation Enduring Freedom 21 September. In 2005, Nimitz participated in the filming of the PBS production of the miniseries Carrier (documentary). In January 2010, while in the Persian Gulf, the ship was awarded the Meritorious Unit Commendation for its back-to-back deployments in support of the wars in Iraq and Afghanistan in 2007 and 2008. The award was presented by Admiral Gary Roughead in a ceremony on the ship on 6 January 2010.