USS Ronald Reagan CVN 76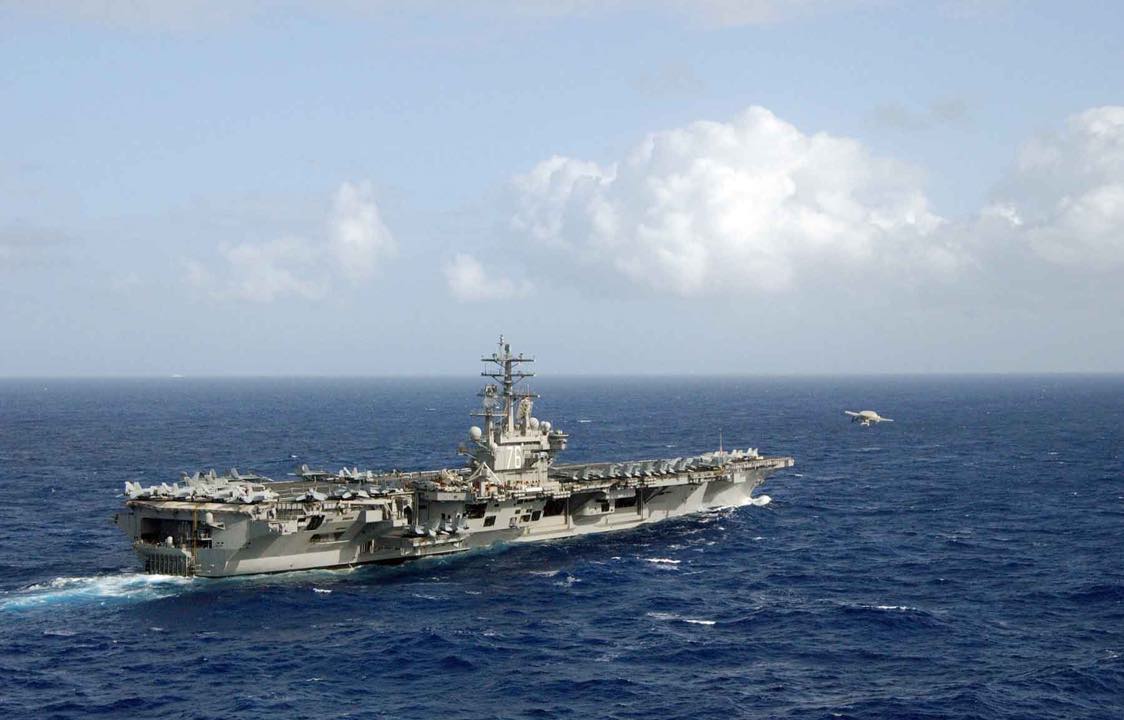 Propulsion: Two nuclear reactors, four shafts. Length: 1, 092 feet (332.85 meters). Beam: 134 feet (40.84 meters); Flight Deck Width: 252 feet (76.8 meters). Displacement: Approximately 97, 000 tons (87, 996.9 metric tons) full load. Speed: 30+ knots (34.5+ miles per hour). Crew: Ship's Company: 3, 200 - Air Wing: 2, 480. Armament: Two or three (depending on modification) NATO Sea Sparrow launchers, 20mm Phalanx CIWS mounts: (3 on Nimitz and Dwight D. Eisenhower and 4 on Vinson and later ships of the class.). Aircraft: 85.
The contract to build Reagan was awarded to Northrop Grumman Newport News and Dry Dock Company in Newport News, Virginia on 8 December 1994, and her keel was laid down on 12 February 1998. The budget for the ship had to be increased several times and ultimately $4.5 billion was spent on her construction. [5] Reagan was christened by Reagan's wife Nancy on 4 March 2001 at Newport News Shipbuilding, the crew moved aboard on 30 Oct 2002, [6] and the ship was commissioned on 12 July 2003 at Naval Station Norfolk, with Captain J. W. Goodwin in command. Vice President Dick Cheney and Lynne Cheney were both present at the ceremony, as well as Nancy Reagan, who gave the ship's crew the traditional first order as an active unit of the Navy: "Man the ship and bring her to life." Ronald Reagan made her maiden voyage on 21 July 2003. President Reagan, who did not attend either the launch or the commissioning due to Alzheimer's disease, died eleven months later. At the end of the graveside services, the ship's commanding officer at that time, Captain James Symonds, presented the flag that draped the former president's casket to Mrs. Reagan at her request. This was also the flag that had flown over Capitol Hill on 20 January 1981, when the president was inaugurated. At a later date, Captain Symonds also presented Mrs. Reagan the flag that had been flying over Ronald Reagan when the former president died.
Ronald Reagan conducted her maiden port visit in Ft. Lauderdale, Fla. from Nov. 11-14, 2003.
After a five-month post shakedown availability (PSA), Reagan received flight deck certification on May 8, 2004[7] and then began her transit from Naval Station Norfolk, Va., around Cape Horn South America to her new homeport of Naval Air Station North Island, San Diego, California. Carrier Air Wing Eleven, which is normally assigned to USS Nimitz (CVN-68) embarked only 25 percent of its total strength for the transit. The squadrons making the transit were VFA-14 and VFA-41 flying the F/A-18E/F Super Hornet, VAW-117 flying the E-2C Hawkeye 2000, HS-6 flying the SH-60F Seahawk and VRC-30 flying the C-2A Greyhound. The ship transited the Strait of Magellan on June 20–21 and made port visits to Rio de Janeiro, Brazil, Valparaiso, Chile, and Callao, Peru before arriving in San Diego on 23 July 2004.
USS Ronald Reagan departed San Diego Jan. 4, 2006 on her maiden deployment to conduct naval operations in support of Operation Iraqi Freedom and Operation Enduring Freedom, as well as to conduct maritime security operations (MSO) in the Persian Gulf. The ship entered the Gulf on Feb 22, 2006 and returned from deployment on July 6, 200
USS Ronald Reagan and the Reagan Carrier Strike Group (CSG) departed North Island, Coronado in San Diego on 27 January 2007 on an unscheduled surge deployment to the Western Pacific, fulfilling the role of the forward deployed carrier Kitty Hawk while it underwent maintenance in Japan. On 20 April 2007, USS Ronald Reagan (CVN 76) and her CSG returned to Coronado. The "surge deployment" was part of the Navy's Fleet Response Plan (FRP), which provides the U. S. with the ability to respond to any global commitment with flexible and sustainable forces and the ability to rapidly respond to a range of situations on short notice. In January 2007, it was announced that USS Ronald Reagan had earned the 2006 Commander Naval Air Force, Pacific Carrier Battle Efficiency "E" award for the West Coast, the first Battle "E" ever for the carrier. [11] On 28 January 2006, an F/A-18 Hornet strike fighter attempting a night landing aboard Reagan crashed into the ship's flight deck about 200 km (120 miles) southeast of Brisbane, Australia. The aircraft struck the ramp at a low angle, caught fire and skidded overboard. The pilot ejected safely, but the aircraft was lost. Reagan returned to Naval Air Station North Island on April 20, 2007 following the three-month deployment in support of operations in the Western Pacific.
On 15 December 2007, the carrier answered a distress call from a cruise ship off the coast of Baja California. An Illinois teenager whose appendix had ruptured while on a Mexican cruise was airlifted by an SH-60 helicopter to Ronald Reagan, where an emergency appendectomy was performed by the ship's surgeon. 2008 Deployment USS Ronald Reagan, with CVW-14 embarked, departed San Diego May 19, 2008 for a scheduled 7th Fleet and 5th Fleet deployment. The Reagan Carrier Strike Group performed humanitarian assistance and disaster relief operations in the Philippines on 24 June 2008 after that country was devastated by Typhoon Fengshen, killing hundreds from the central island regions and the main island of Luzon. The typhoon also capsized the passenger ferry MV Princess of the Stars. Working in support of the Armed Forces of the Philippines, Reagan and her escorts of Carrier Strike Group 7 focused their efforts on the island of Panay in the Central Visayas. For eight days, SH-60 Seahawk helicopters and C-2A Greyhound aircraft of the Ronald Reagan Strike Group helped deliver more than 519, 000 lbs. of rice, fresh water and other supplies to areas of Panay, which were not reachable via truck due to flooded roads. The mission in Panay would earn the entire strike group the Navy's Humanitarian Service Medal. The Strike Group arrived in the U. S. Fifth Fleet area on Aug. 28, 2008, where she launched more than 1, 150 sorties into Afghanistan in support of Operation Enduring Freedom. Reagan returned to San Diego on Nov. 25, 2008.
USS Ronald Reagan received word in February 2009 that the ship had won its second Battle Efficiency Award 2009 Deployment On May 28, 2009, Reagan deployed with Carrier Air Wing 14 to the 7th and 5th Fleet Areas of Responsibility Reagan relieved the Eisenhower CSG and launched its first sorties in support of OEF on 6 July. Reagan returned to homeport on Oct. 21 after a five-month deployment