CV 41 USS Midway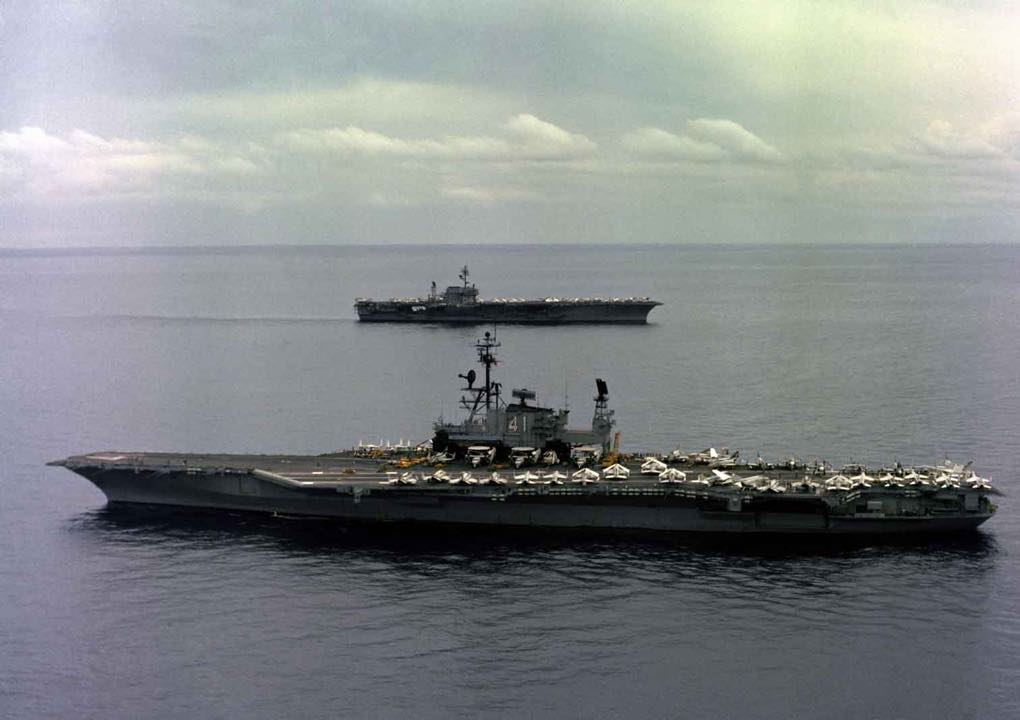 Displacement: 45,000 tons length: 968 feet beam: 113 feet draft: 35 feet speed: 33 knots complement: 4,104 crew armament: 18 5-inch guns, 84 40mm guns, 68 20mm guns class: Midway
The third Midway (CVB-41) was laid down 27 October 1943 by Newport News Shipbuilding Co., Newport News, Va. ; launched 20 March 1945; sponsored by, Mrs. Bradford William Ripley, Jr. ; and commissioned 10 September 1945, Capt. Joseph F. Bolger in command.
After shakedown in the Caribbean, Midway joined in the Atlantic Fleet training schedule, with Norfolk her homeport. From 20 February 1946 she was flagship for CarDiv 1. In March, she tested equipment and techniques for cold weather operations in the North Atlantic. East coast and Caribbean training was highlighted by Operation Sandy, in which in September 1947, she test fired a captured German V-2 rocket from her flight deck, first such launching from a moving platform.
On 29 October 1947, Midway sailed for the first of her annual deployments with the 6th Fleet, mighty peacekeeping force in the Mediterranean. A powerful extension of sea/air power, Midway trained between deployments and received alterations necessary to accommodate heavier aircraft as they were developed.
From 26 to 29 May 1952, the feasibility of the angled deck concept was demonstrated in tests conducted on a simulated angled deck aboard Midway by Naval Air Test Center pilots and Atlantic Fleet pilots in both jet and prop aircraft. Midway also participated in North Sea maneuvers with NATO forces, and on 1 October was redesignated CVA-41.
Midway cleared Norfolk 27 December 1954 for a world cruise, sailing via the Cape of Good Hope for Taiwan, where she joined the 7th Fleet on 6 February 1955 for operations in the western Pacific. This was the first operation of ships of her class in the western Pacific. Midway remained with the 7th Fleet until 28 June 1955 when she sailed for overhaul at Puget Sound Naval Shipyard. Here, she was out of commission until 30 September 1957, while she was modernized and such new innovations as an enclosed bow and an angled flight deck were installed.
Homeported at Alameda, Midway began annual deployments with the 7th Fleet in 1958. On 8 December 1958, the first firing of a Sparrow III air-to-air missile by a squadron deployed outside the U. S. was conducted by VF-64, based aboard Midway. The carrier was also on duty in the South China Sea during the Laotian crisis of spring l961. During her 1962 deployment, her aircraft tested the air defense systems of Japan, Korea, Okinawa, the Philippines, and Taiwan.
The carrier continued its role as a research and development platform. On 13 June 1963, Lt. Cmdr. Randall K. Billins and Lt. Cmdr. Robert S. Chew Jr., of Naval Air Test Center Patuxent River, Md., piloting an F-4A Phantom II and an F-8D Crusader respectively, made the first fully automatic carrier landings with production equipment on board Midway off the California coast. The landings, made "hands off" with both flight controls and throttles operated automatically by signals from the ship, highlighted almost 10 years of research and development and followed by almost six years the first such carrier landings made with test equipment.
When Midway again sailed for the Far East 6 March 1965, her aircraft were prepared for combat operations, and from mid-April flew strikes against military and logistics installations in North and South Vietnam. On 17 June 1965, while escorting a strike on the barracks at Gen Phu, North Vietnam, Cmdr. Louis C. Page and Lt. Jack E. D. Batson, flying F-4B Phantoms of VF-21, deployed aboard Midway, intercepted four MiG-17s and each shot down one, scoring the first U. S. victories over MiGs in Vietnam.
Returning to Alameda 23 November 1965, she entered San Francisco Bay Naval Shipyard 11 February 1966 for extensive modernization, for which she was placed in Reserve, in commission special, 15 February 1966. She was recommissioned 31 January 1970 following the four-year conversion-modernization at the shipyard. Midway returned to Vietnam and on 18 May 1971, after relieving USS Hancock (CVA 19) on Yankee Station, began single carrier operations which continued until the end of the month. She departed Yankee Station on 5 June, and completed her final line period on 31 October. She returned to her homeport on 6 November.
Midway, with embarked Carrier Air Wing Five (CVW 5), again departed Alameda for operations off Vietnam on 10 April 1972. On 11 May, aircraft from Midway along with those from USS Coral Sea (CV 43), USS Kitty Hawk (CV 63), and USS Constellation (CV 64) continued laying minefield in ports of significance to the North Vietnamese — Thanh Hoa, Dong Hoi, Vinh, Hon Gai, Quang Khe and Cam Pha as well as other approaches to Haiphong. Ships that were in port in Haiphong had been advised that the mining would take place and that the mines would be armed 72 hours later. Midway continued Vietnam operations throughout the summer of 1972. On 7 August 1972, an HC-7 Det 110 helicopter, flying from Midway, and aided by planes from the carrier and USS Saratoga (CV 60), conducted a search and rescue mission for a downed aviator in North Vietnam. The pilot of an A-7 aircraft from Saratoga had been downed by a surface-to-air missile about 20 miles inland, northwest of Vinh, on 6 August. The HC-7 helo flew over mountainous terrain to rescue the pilot. The rescue helicopter used its search light to assist in locating the downed aviator and, despite receiving heavy ground fire, was successful in retrieving him and returning to an LPD off the coast. This was the deepest penetration of a rescue helicopter into North Vietnam since 1968. HC-7 Det 110 continued its rescue missions and by the end of 1972 had successfully accomplished 48 rescues, 35 of which were under combat conditions.
On 5 October 1973, Midway, with CVW 5, put into Yokosuka, Japan, marking the first forward-deployment of a complete carrier task group in a Japanese port as the result of an accord arrived at on 31 August 1972 between the U. S. and Japan. In addition to the morale factor of dependents housed along with the crew in a foreign port, the move had strategic significance because it facilitated continuous positioning of three carriers in the Far East at a time when the economic situation demanded the reduction of carriers in the fleet.
Midway, USS Coral Sea (CVA 43), USS Hancock (CVA 19), USS Enterprise (CVAN 65) and USS Okinawa (LPH 3) responded 19 April 1975 to the waters off South Vietnam when North Vietnam overran two-thirds of South Vietnam. Ten days later, Operation Frequent Wind was carried out by U. S. Seventh Fleet forces. Hundreds of U. S. personnel and Vietnamese were evacuated to waiting ships after the fall of Saigon to the North Vietnamese. One South Vietnamese pilot landed a small aircraft aboard Midway, bringing himself and his family to safety.
On 21 August 1976, a Navy task force headed by Midway made a show of force off the coast of Korea in response to an unprovoked attack on two U. S. Army officers who were killed by North Korean guards on 18 August. Midway's response was in support of a U. S. demonstration of military concern vis-à-vis North Korea.
Midway relieved USS Constellation (CV 64) as the Indian Ocean contingency carrier on 16 April 1979. Midway and her escort ships continued a significant American naval presence in the oil-producing region of the Arabian Sea and Persian Gulf. On 18 November, she arrived in the northern part of the Arabian Sea in connection with the continuing hostage crisis in Iran. Militant followers of the Ayatollah Khomeini, who had come to power following the overthrow of the Shah, seized the U. S. Embassy in Tehran on 4 November and held 63 U. S. citizens hostage. Midway was joined 21 November by USS Kitty Hawk (CV 63), and both carriers, along with their escort ships, were joined by USS Nimitz (CVN 68) and her escorts on 22 January 1980. Midway was relieved by USS Coral Sea (CV 43) on 5 February.
Following a period in Yokosuka, Midway was again on duty, this time relieving USS Coral Sea 30 May 1980 on standby south of the Cheju-Do Islands in the Sea of Japan following the potential of civil unrest in the Republic of Korea. On 17 August, Midway relieved USS Constellation to begin another Indian Ocean deployment and to complement the USS Dwight D. Eisenhower (CVN 69) task group still on contingency duty in the Arabian Sea. Midway spent a total of 118 days in the Indian Ocean during 1980.
On 16 March 1981, an A-6 Intruder from VA-115 aboard Midway sighted a downed civilian helicopter in the South China Sea. Midway immediately dispatched HC-1 Det 2 helicopters to the scene. All 17 people aboard the downed helicopter were rescued and brought aboard the carrier. The chartered civilian helicopter was also plucked out of the water and lifted to Midway's flight deck.
Midway continued serving in the western Pacific throughout the 1980s. On 25 March 1986, the final carrier launching of a Navy fleet F-4S Phantom II took place off Midway during flight operations in the East China Sea. The aircraft was manned by pilot Lt. Alan S. Cosgrove and radar intercept officer Lt. Greg Blankenship of VF-151. Phantoms were being replaced by the new F/A-18 Hornets. On 2 August 1990, Iraq invaded its neighbor Kuwait, and U. S. forces moved into Saudi Arabia as part of Operation Desert Shield to protect that country against invasion by Iraq. On 1 November 1990, Midway was again on station in the North Arabian Sea, relieving USS Independence (CV 62). On 15 November, she participated in Operation Imminent Thunder, an eight-day combined amphibious landing exercise in northeastern Saudi Arabia which involved about 1,000 U. S. Marines, 16 warships, and more than 1,100 aircraft. Meanwhile, the United Nations set an ultimatum deadline of 15 January 1991 for Iraq to withdraw from Kuwait. President George H. W. Bush addressed the nation on 16 January 1991 at 9 p. m. EST and announced that the liberation of Kuwait from Iraq, Operation Desert Storm, had begun. The Navy launched 228 sorties from Midway and USS Ranger (CV 61) in the Persian Gulf, from USS Theodore Roosevelt (CVN 71) en route to the Gulf, and from USS John F. Kennedy (CV 67), USS Saratoga (CV 60), and USS America (CV 66) in the Red Sea. In addition, the Navy launched more than 100 Tomahawk missiles from nine ships in the Mediterranean Sea, the Red Sea, and the Persian Gulf. At 9 p. m. EST on 27 February, President Bush declared Kuwait had been liberated and Operation Desert Storm would end at midnight. Midway departed the Persian Gulf 11 March 1991 and returned to Yokosuka. In August 1991, Midway departed Yokosuka and returned to Pearl Harbor. Here, she turned over with USS Independence (CV 62) which was replacing Midway as the forward-deployed carrier in Yokosuka. Midway then sailed to San Diego where she was decommissioned at North Island Naval Air Station on 11 April 1992. She was stricken from the Navy List on 17 March 1997. On 30 September 2003, Midway began her journey from the Navy Inactive Ship Maintenance Facility, Bremerton, Wash., to San Diego where she will be a museum and memorial. She was docked at the Charles P. Howard Terminal in Oakland, Calif., during the first week in October while the construction of her pier in San Diego was completed. The carrier was towed from Oakland to San Diego, and arrived on 5 January 2004. She docked at the Naval Air Station North Island to load historic aircraft for display. She will be part of a major museum devoted to carriers and naval aviation.