USS CORAL SEA CV 43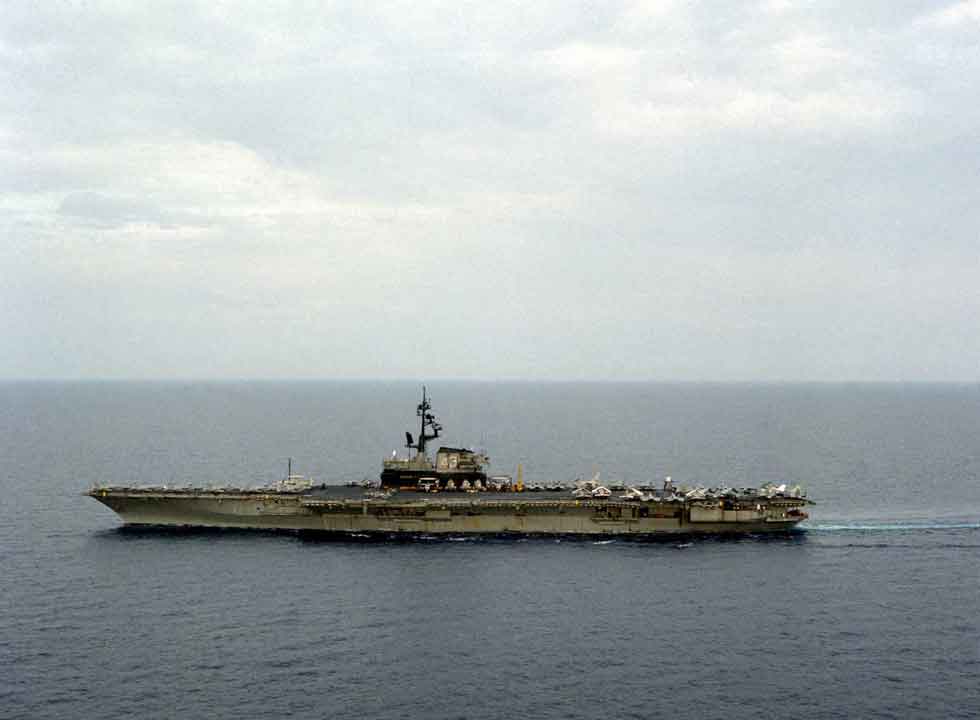 (Coral Sea (CVE-57) was renamed Anzio (q.v.) 15 September 1944. Coral Sea (CV-42) was renamed Franklin D. Roosevelt (q.v.) 8 May 1945. (CVB-43: dp. 45,000; 1. 968'; b. 113'; e.w. 136'; dr. 35'; s. 33 k.; cpl. 4,104; a. 18 5"; cl. Midway)
Coral Sea (CVB-43) was launched 2 April 1946 by Newport News Shipbuilding and Drydock Co., Newport News, Va., sponsored by Mrs. T. C. Kinkaid, commissioned1 October 1947, Captain A. P. Storrs, III, in command; and reported to theAtlantic Fleet.
Coral Sea sailed from Norfolk 7 June 1948 for a midshipmen cruise tothe Mediterranean and Caribbean, and returned to Norfolk 11 August. Afteroverhaul and training in the Caribbean, she sailed 3 May 1949 for her firsttour of duty in the Mediterranean with the 6th Fleet, returning 28 September.She returned to the Mediterranean for duty from 9 September 1950 to 1 February1951, bringing her impressive strength to the 6th Fleet in its importantrole as guardian of peace in the Mediterranean.
An overhaul and local operations upon her return, as well as trainingwith Air Group 17, prepared her for a return to the Mediterranean once moreon 20 March 1951. As flagship for Commander, Carrier Division 6, she tookpart in a North Atlantic Treaty Organization exercise "Beehive I."She returned to Norfolk 6 October for local and Caribbean operations, nextsailing for the Mediterranean 19 April 1952. While on service with the 6thFleet, she visited Yugoslavia, and carried Marshall Tito on a one-day cruiseto observe carrier operations. reclassified CVA-43 on 1 October 1952, shereturned to Norfolk for overhaul 12 October.
Coral Sea trained pilots in carrier operations off the Virginia Capesand Mayport, Fla., and in April 1953 she embarked the Judiciary Committeeof the House of Representatives for a 3-day cruise. On 26 April the carrier sailed for a tour of duty in the Mediterranean. This cruise was highlightedby a visit to Spain, and participation in NATO exercise "Black Wave"with Deputy Secretary of Defense R. M. Kyes on board as an observer. Returningto Norfolk 21 October, she carried out tests for the Bureau of Aeronauticsand trained members of the Naval Reserve at Mayport, Fla., and GuantanamoBay.
Coral Sea returned to the Mediterranean from 7 July to 20 December 1954,and during this tour was visited by Generalissimo Franco as she lay offyalencia, Spain. On her next tour of duty in the Mediterranean from 23 Marchto 29 September 1955, she called at Istanbul, and participated in NATO exercises.
Sailing from Norfolk 23 July 1956 for Mayport to embark Carrier Air Group10, Coral Sea continued on to the Mediterranean on her next tour. She participatedin NATO exercises, and received the King and Queen of Greece on board asvisitors in October. During the Suez Crisis, she evacuated American citizensfrom the troubled area, and stood by off Egypt until November. She returned to Norfolk 11 February 1957. She cleared that port on 26 February and visitedSantos, Brazil; Valparaiso, Chile; and Balboa, C.Z., before arriving atBremerton, Washington, 15 April. Coral Sea was decommissioned for conversion24 May 1957, and upon completion was recommissioned 25 January 1960 to rejointhe Fleet. During September 1960, she conducted training with her new air group along the west coast, then sailed in September for a tour of dutywith the 7th Fleet in the Far East.
Installation of the Pilot Landing Aid Television (PLAT) system was completed on Coral Sea on 14 December 1961. She was the first carrier to have this system installed for operations use. Designed to provide a videotape of every landing, the system proved useful for instructional purposes and in the analysis of landing accidents, thereby making it an invaluable tool in the promotion of safety. By 1963, all attack carriers had been equipped with PLAT and plans were underway for installation in the CVSs and at shore stations.

Following the Gulf of Tonkin incident in August, Coral Sea departed on 7 December 1964 for duty with the U.S. Seventh Fleet. On 7 February 1965, aircraft from Coral Sea, along with those from USS Ranger (CVA 61) and USS Hancock (CVA 19), blasted the military barracks and staging areas near Dong Hoi in the southern sector of North Vietnam. The raids were in retaliation for a damaging Viet Cong attack on installations around Pleiku in South Vietnam. On 26 March, the Seventh Fleet units began their participation in Operation Rolling Thunder, a systematic bombing of military targets throughout North Vietnam. Pilots from Coral Sea struck island and coastal radar stations in the vicinity of Vihn Son. Coral Sea remained on deployment until returning home on 1 November 1965.

Coral Sea continued WestPac/Vietnam deployments until 1975. She deployed from 29 July 1966 to 23 February 1967; 26 July 1967 to 6 April 1968; 7 September 1968 to 15 April 1969; 23 September 1969 to 1 July 1970; 12 November 1971 to 17 July 1972; 9 March 1973 to 8 November; and from 5 December 1974 to 2 July 1975. Operations by Navy and Marine Corps aircraft in Vietnam expanded significantly throughout April 1972 with a total of 4,833 Navy sorties in the south and 1,250 in the north. Coral Sea, along with Hancock, was on Yankee Station when the North Vietnamese spring offensive began. They were joined in early April by USS Kitty Hawk (CV 63) and USS Constellation (CV 64). On 16 April 1972, aircraft from Coral Sea, along with those from Kitty Hawk and Constellation, flew 57 sorties in the Haiphong area in support of U.S. Air Force B-52 strikes on the Haiphong petroleum products storage area in an operation known as Freedom Porch.

Operation Pocket Money, the mining campaign against principal North Vietnamese ports, was launched 9 May 1972. Early that morning, an EC-121 aircraft took off from Da Nang airfield to provide support for the mining operation. A short time later, Kitty Hawk launched 17 ordnance-delivering sorties against the Nam Dinh railroad siding as a diversionary air tactic. Poor weather, however, forced the planes to divert to secondary targets at Thanh and Phu Qui which were struck at 090840H and 090845H, Vietnam time, respectively. Coral Sea launched three A-6A and six A-7E aircraft loaded with mines and one EKA-3B in support of the mining operation directed against the outer approaches to Haiphong Harbor. The mining aircraft departed the vicinity of Coral Sea at 090840H in order to execute the mining at precisely 090900H to coincide with the President Richard M. Nixon's public announcement in Washington that mines had been seeded. The A-6 flight led by the CAG, Cmdr. Roger E. Sheets, was composed of Marine Corps aircraft from VMA-224 and headed for the inner channel. The A-7Es, led by Cmdr. Leonard E. Giuliani and made up of aircraft from VA-94 and VA-22, were designated to mine the outer segment of the channel. Each aircraft carried four MK 52-2 mines. Capt. William R. Carr, USMC, the bombardier/navigator in the lead plane, established the critical attack azimuth and timed the mine releases. The first mine was dropped at 090859H and the last of the field of 36 mines at 090901H. Twelve mines were placed in the inner segment and the remaining 24 in the outer segment. All MK 52-2 mines were set with 72-hour arming delays, thus permitting merchant ships time for departure or a change in destination consistent with the President's public warning. It was the beginning of a mining campaign that planted over 11,000 MK 36 type destructor and 108 special MK 52-2 mines over the next eight months. It is considered to have played a significant role in bringing about an eventual peace arrangement, particularly since it so hampered the enemy's ability to continue receiving war supplies.

The Paris Peace Accords, ending hostilities in Vietnam, were signed 27 January 1973, ending four years of talks. North Vietnam released nearly 600 U.S. prisoners by 1 April, and the last U.S. combat troops departed Vietnam on 11 August. However, the war was not over for the Vietnamese. By spring 1975, the North was advancing on the South. Coral Sea, USS Midway (CVA 41), Hancock, USS Enterprise (CVAN 65) and USS Okinawa (LPH 3) responded 19 April 1975 to the waters off South Vietnam when North Vietnam overran two-thirds of South Vietnam. Ten days later, Operation Frequent Wind was carried out by U.S. Seventh Fleet forces. Hundreds of U.S. personnel and Vietnamese were evacuated to waiting ships after the fall of Saigon to the North Vietnamese. South Vietnam officially surrendered to the North on 30 April.

On 12 to 14 May 1975, Coral Sea participated with other Navy, Air Force, and Marine Corps forces in the recovery of the U.S. merchant ship SS Mayaguez and her 39 crew, illegally seized on 12 May in international waters by a Cambodian gunboat controlled by the Communist Khmer Rouge. Protective air strikes flown from the carrier against the Cambodian mainland naval and air installations as Air Force helicopters with 288 Marines from Battalion Landing Teams 2 and 9 were launched from Utapao, Thailand, and landed at Koh Tang Island to rescue the Mayaguez crew and secure the ship. Eighteen Marines, Airman, and Navy corpsmen were lost in the action. For her action, Coral Sea was presented the Meritorious Unit Commendation on 6 July 1976.

Coral Sea relieved Midway in the northern part of the Arabian Sea on 5 February 1980 in connection with the continuing hostage crisis in Iran. Militant followers of the Ayatollah Khomeini, who had come to power following the overthrow of the Shah, seized the U.S. Embassy in Tehran on 4 November 1979 and held 63 U.S. citizens hostage. The hostage crisis ended on 20 January 1981 when Ronald Reagan succeeded Jimmy Carter as President of the United States and Iran released the U.S. citizens.

On 13 October 1985, Coral Sea returned to the Mediterranean Sea for her first Sixth Fleet deployment since 1957. Commanded by Capt. Robert H. Ferguson, with CVW-13 embarked, it was also the first deployment of the new F/A-18 Hornet to the Mediterranean. The Hornets were assigned to VFA-131 and VFA-132 in Coral Sea.

On 24 March 1986, Libyan armed forces fired missiles at U.S. naval forces operating in the Gulf of Sidra after declaring international waters as their own. U.S. retaliation was swift and deadly. Additionally, F/A-18 Hornets from Coral Sea and A-7E Corsairs from USS America (CV 66) conducted air-to-surface Shrike and HARM missile strikes against Libyan surface-to-air missile sites at Benghazi and Tripoli on 14 and 15 April.

Coral Sea continued deployments to the Mediterranean Sea and Indian Ocean area throughout the remainder of the 1980s and into the 1990s. In 1987, she developed the "Coral Sea configuration" in whch to help streamline aircraft maintenance, two attack squadrons on board used a shared maintenance. On 19 April 1989, while operating in the Caribbean, Coral Sea responded to a call for assistance from USS Iowa (BB 61) due to an explosion in the battleship's number two gun turret in which 47 crew members were killed. The explosive ordnance disposal team from Coral Sea removed volatile powder charges from the ship's 16-inch guns and flooded powder magazines. Coral Sea also dispatched a surgical team and medical supplies. VC-8, using SH-3G helicopters, also performed medevac and logistical support to Iowa.

Coral Sea was decommissioned 26 April 1990. Stricken from the Navy List, she was sold by the Defense Reutilization and Marketing Service (DRMS) for scrapping on 7 May 1993.