CV-21 U.S.S. Boxer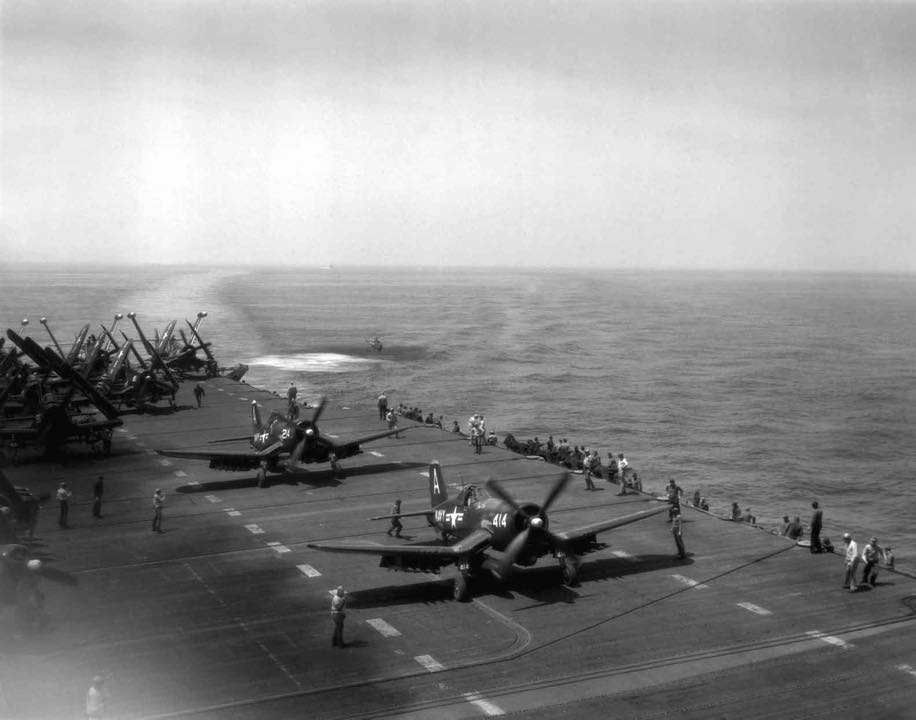 Displacement: 27,100 tons length: 888 feet beam: width at flight deck: 1471⁄2 feet draft: 28 feet 7 inches speed: 33 knots complement: 3,448 crew armament: 12 5-inch guns class: Essex
The fifth Boxer (CV 21) was launched 14 December 1944 by Newport News Shipbuilding and Dry Dock Co. Newport News, Va. ; sponsored by Miss Ruth D. Overton daughter of the Senator from Louisiana and commissioned 16 April 1945, Captain D. F. Smith in command.
Completed too late to take part in World War II, Boxer joined the Pacific Fleet at San Diego in August 1945. From September 1945 to 23 August 1946 she operated out of Guam as flagship of TF 77 in the western Pacific. During this tour she visited Japan, Okinawa, the Philippines and China. She returned to San Francisco 10 September 1946 and operated off the west coast engaged in normal peacetime duty until departing for the Far East 11 January 1950. After service with the 7th Fleet in the Far East during the first half of 1950, she returned to San Diego, arriving 25 June.
With the outbreak of the Korean conflict she was pressed into service to carry planes to the fighting. On 23 July 1950 she completed a record crossing of the Pacific from Alameda, Calif., to Yokosuka, Japan, in 81⁄2 days, carrying 145 P-51 Mustang and six L-5 aircraft for the Air Force, 19 Navy planes, 1,012 troops and 2,000 tons of supplies. On her return trip (27 July-4 August), she cut the record to 7 days, 10 hours, and 36 minutes. After fast repairs she departed for the Far East 24 August, this time to join TF 77 in giving air support to the troops. Her planes supported the landing at Inchon (15 September 1950) and other ground action until November, when she departed for the west coast and overhaul.
Boxer departed San Diego for her second Korean tour 2 March 1951. Again she operated with TF 77 supporting the ground troops. On 29 March, Carrier Air Wing 101 ó composed of Naval Reserve squadrons called to active duty from Dallas, Tex. ; Glenview, Ill. ; Memphis, Tenn. ; and, Olathe, Kans. ó flew its first combat mission from Boxer, the first carrier strikes by Naval Reserve units against North Korean forces. She returned to San Francisco 24 October 1951.
Sailing 8 February 1952 for her third tour in Korea, Boxer again served with TF 77. On 23 June, 35 AD Skyraiders and 35 F-9F2 Panther jets from Boxer, USS Princeton (CV 37) and USS Philippine Sea (CV 47), joined Air Force Thunderjets in an attack on the heavily defended hydroelectric power plant at Suiho, North Korea, the fourth largest such facility in the world. The plant was completely knocked out. The raid was part of a two-day aerial offensive against North Korea's 13 major power plants. On 5 August 1952, Boxer had nine men killed and two seriously injured in a fire which swept the hangar deck. After emergency repairs at Yokosuka, Japan (11-23 August), Boxer returned to duty off Korea. She arrived at San Francisco 25 September and underwent repairs until March 1953.
The carrier departed for the Far East 30 March 1953 and went into action a month later. She took part in the final actions of the Korean conflict and remained in Asiatic waters until November.
Boxer was reclassified CVA-21 on 1 October 1952 and CVS-21 on 1 February 1956.
On 2 October 1958, the Commander in Chief, U.S. Atlantic Fleet, announced the formation of a new amphibious squadron, composed of Boxer and for LSDs equipped with helicopter platforms, which would provide a highly mobile unit capable of employing Marine Corps helicopters squadrons and combat troops in the fast-landing concept of vertical envelopment. The first permanent Marine Aviation Detachment afloat was activated on board Boxer on 10 November to provide supply, maintenance, and flight deck control functions necessary to support the Marine helicopter squadrons and troops. The ship was reclassified as LPH 4 on 30 January 1959.
Boxer and two LSDs arrived off the coast of Hispanola on 29 August 1964 to provide medical aid and helicopter evacuation services to people in areas of Haiti and the Dominican Republic badly damaged by Hurricane Cleo. Boxer returned to the Dominican Republic on 27 April 1965, sending her Marines ashore while the embarked HMM-264 began an airlift in which over 1,000 U. S. nationals were evacuated to the naval task force off shore as a revolt in the country threatened their safety.
Boxer also participated in the U. S. space program. On 26 February 1966, the first unmanned spacecraft of the Apollo series, fired into suborbital flight by a Saturn 1B rocket from Cape Kennedy, Fla., was recovered in the southeast Atlantic Ocean, 200 miles east of Ascension Island by a helicopter from the ship. Boxer was decommissioned 1 December 1969, and stricken from the Navy List. She was sold for scrapping on 13 March 1971.
Boxer received eight battle stars for her service off Korea.