1984 Elections Mondale vs Reagan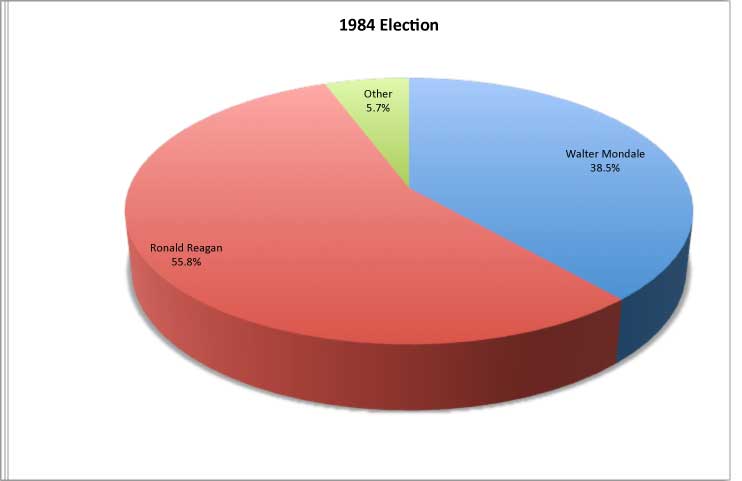 President Reagan faced no opposition to his renomination as the 1984 Republican Presidential candidate. Senator Walter Mondale, Jimmy Carter's Vice President, was the Democratic front-runner throughout the election campaign. Mondaleís most serious opposition was Senator Gary Hart of Colorado, who ran on a theme of new ideas. Other opponents included: Senator Henry Jackson of Washington, and Reverend Jesse Jackson, the first serious Black candidate for President. Mondale was nominated on the first ballot at the Democratic convention, in San Francisco. Mondale selected Geraldine Ferraro to be his running mate. Ferraro became the first women to be nominated as a vice-presidential candidate by a major party.
The election campaign revolved mostly around the issues of deficit and tariff barriers. The traditional roles of the Democratic and Republican party were reversed. Democrats attacked the Republicans for their proposed budget deficit. The Democrats called for more tariff protection.
Two debates were held. During the first debate, Reagan did poorly. Though he recovered in the second debate by using humor to parry one of the Mondale's criticisms successfully- (i. e. that he was too old). Reagan stating during the debate that he would not use age as an issue. Reagan quipped he would refrain from criticizing Mondale's ìyouth and inexperience
Ronald Reagan was re-elected with an 18 point margin. This was one of the largest landslides in American History.