1936 Election Results Landon VS Roosevelt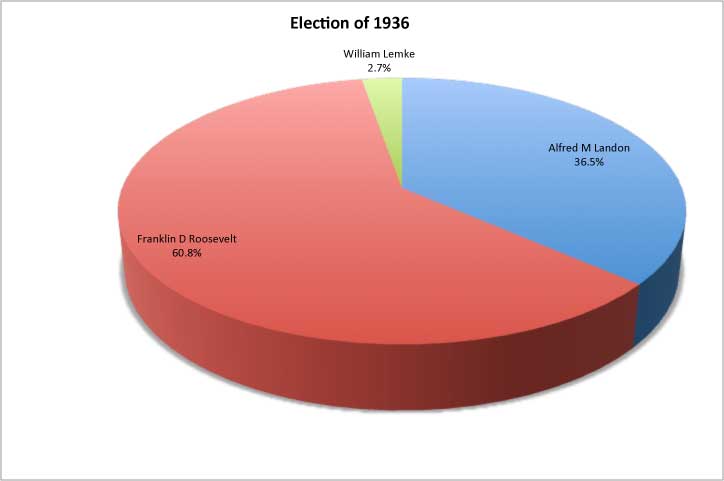 The 1936 Democratic convention voted overwhelmingly to renominate Roosevelt as their presidential nominee. The convention eliminated the rule requiring 2/3 of the delegates to vote in favor of a candidate to receive the Presidential nomination. This simplified the future selection of presidential candidates. The Republicans met in Cleveland in 1936. They nominated Alfred "Alf" Landon, of Kansas. Landon attacked the Roosevelt administration's New Deal while supporting some of its goals. The Republicans enjoyed support from businesses and most newspapers. Businesses opposed the more significant role that government undertook, as a result of the policies of the Roosevelt administration.
Roosevelt became an active campaigner. He took to the road and airways in October. Roosevelt proved he had no peer, as a politician. Landon, on the other hand, proved to be a lackluster candidate. The Republicans became desperate and claimed Social Security, which was scheduled to go into effect in 1937, was a fraud. Roosevelt gave a rousing defense of Social Security a few days before the election.
Roosevelt won the election by an overwhelming majority of votes. By doing so, Roosevelt cemented a significant realignment in American politics.