1916 Election Results Wilson vs Hughes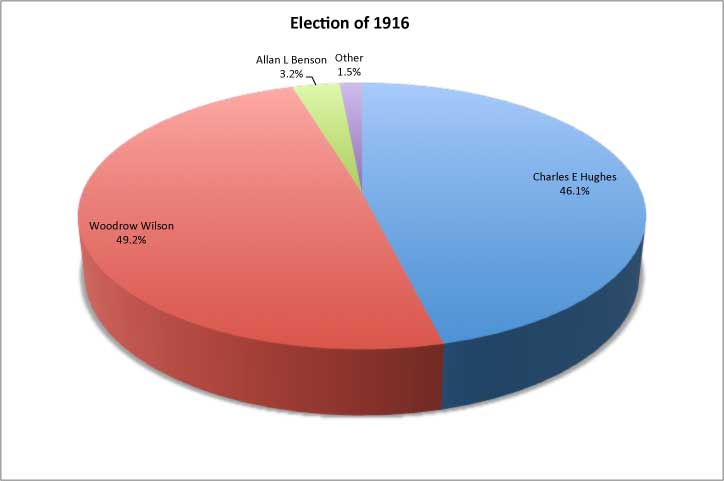 Wilson was renominated without opposition at the Democratic convention held in St. Louis, in June 1916. Former President Roosevelt tried to obtain the Republican nomination. However, too many in the party refused to forgive him for opposing Taft in 1912. Instead, the Republicans nominated Charles Evans Hughes of New York.
Wilson had achieved many of his progressive goals. By 1912, the primary issue on most voters minds was the war in Europe. The Democrats' theme was "He kept us out of war." Wilson claimed it was his policies that both defended American rights and kept the US out of the war. Furthermore, Democrats contended that if Hughes were to win, the US would be drawn into the war. Republicans claimed that Wilson had not protected the neutral rights of the United States. Many political analysts predicted a victory for Hughes. On election night, when both Wilson and Hughes went to sleep, it appeared Hughes had indeed won. Late editions of several New York papers carried the headline: "President-Elect Hughes." The upset took place overnight when Wilson carried California by 3,000 votes.