How to Unlock New Opportunities With a Degree in Christian Studies
by Dave Smith
Faith is the beautiful journey from knowledge to acknowledgment. A healthy interplay of religious faith and cognitive beliefs can be extremely powerful in empowering you toward a journey of inner peace.
But the number of preachers and pastors in American churches has experienced a decline, as indicated by data from the National Center for Education Statistics. In the academic year 2020-21, only about 6,000 students successfully obtained a Bachelor's Degree in Theology or related spiritual vocations.
If you aspire to become a servant leader, spreading the love of Christ, a Bachelor's degree in Christian studies can help you imbibe a truthful Christian character and embody contemporary ethical aspects.
This degree program goes beyond traditional education, empowering you to deepen your understanding of theology while nurturing your personal and spiritual growth. In this blog post, we will delve into the significance of embracing your inner calling and exploring your faith through a bachelor's degree in Christian studies.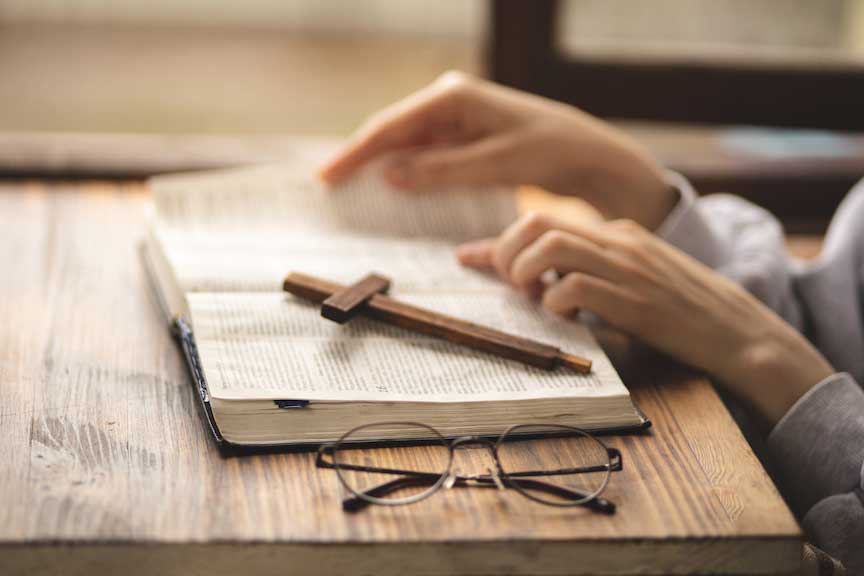 Building a Foundation in Faith and Knowledge
The foundation of the bachelor's degree in Christian studies rests on biblical interpretation and the evolution of critical thinking, empowering you to navigate intricate theological matters with wisdom and discernment.
A Christian studies course also allows you to delve deeper into the history of Christianity. You can learn more about the origins and evolution of the religion, from early and medieval Christianity to the contemporary world. You also get an insight into the link between Christianity and other religions in the world.
This academic exploration will not only strengthen your own faith but also equip you with the necessary knowledge about the Scripture, church history, theology, and Christian ethics.
Moreover, this degree program aims to foster spiritual growth and personal transformation. This journey from knowledge to faith will make you reflect, worship, and nurture a vibrant spiritual life.
Harnessing Opportunities for Ministry and Service
As a graduate of Christian studies, you ought to have a comprehensive understanding of Christian principles and get skilled in effective communication, leadership, and pastoral care. 
The module will equip you to serve your faith in youth ministry, missions, counseling, and other roles within Christian organizations.
Youth Ministry
This degree will provide you with the necessary qualifications to pursue a role in youth ministry, such as mentoring and guiding young people through their spiritual journey. You can arrange and manage youth groups, create impactful retreats and events, and support teenagers who are dealing with different difficulties in the present day.
Church Leadership
As a learner of Christian ministry theology, you will have an in-depth knowledge of the Bible, outstanding abilities in communication, and a passion for leading and shepherding others. This degree will allow you to make an impactful contribution to the spiritual growth and well-being of your community by becoming a pastor, an associate minister, or a church administrator.
Missions and Outreach
If you harbor a passion for global mission work or local outreach, you can benefit greatly from a degree in Christian Studies. As a graduate, you can help mission organizations, both locally and abroad, to share the gospel, reach out to those in poverty, and offer hope and practical help to people in need.
You can help to create links between churches and organizations, plan mission trips, and engage in cross-cultural outreach.
Counseling
You can embrace the opportunity to embark on a meaningful career as a pastoral counselor, where you can extend guidance and support to individuals and families navigating diverse challenges.
By adopting a holistic approach that blends biblical principles with counseling techniques, you can aid people in their quest for healing, restoration, and spiritual growth.
Through this role, you have the privilege of assisting others in finding solace, discovering their inner strength, and cultivating a deeper connection with their faith.
Other career options that can be explored by you include Christian school teaching and working with nonprofits. According to Grand Canyon University, courses such as Old Testament Survey, New Testament Survey, Pentateuch, and Christian Character Formation, can equip you to spread the word of God and your faith to many people.
Advancing Knowledge and Skills through Specialized Courses
After completing this degree program, you have the opportunity to pursue advanced courses and specialized training, enhancing your expertise and broadening your career prospects.
This section will highlight a few options that are available for you if you wish to further pursue your learning journey:
The Master of Divinity (M.Div.): This program is a comprehensive graduate program designed to equip you for various roles pertaining to ministry and leadership.
Graduate-level theological institutions consider the Master of Divinity as the primary professional degree for individuals pursuing a pastoral career in North America.
The completion of an MDiv degree typically requires three to four years and involves practical experiences, similar to other professional terminal degrees. These practical components will provide you with hands-on training and real-world exposure, enabling you to develop the necessary skills for your future roles in ministry.
Master of Theology (Th.M.): The Master of Theology (ThM) is a post-graduate degree that universities and divinity schools offer to students who have a Master of Divinity or an equivalent prerequisite degree.
It can serve as both a stepping stone to a Ph.D. program and a standalone terminal degree, depending on your educational background and the institution you choose to study at.
In North America, the ThM program generally necessitates at least 2-3 years of prior graduate study as a prerequisite for admission. By pursuing a ThM, you can expand your understanding of theological concepts, engage in critical analysis, and contribute to the scholarly discourse in your chosen field.
Master of Arts in Christian Apologetics: If you have a passion for providing rational and reasoned defenses of the Christian faith, pursuing this course is a valuable option. This specialized program enables students to delve into the philosophical, historical, and scientific aspects of reasoning and articulating Christian beliefs. 
For you as a student, the areas of exploration would include hermeneutics, examining biblical texts, and studying the history of Christian apologetics.
As a student of this vertical, you can seek to strengthen the authenticity and credibility of the Bible by seeking external sources and evidence that corroborate its truths.
Master of Arts in Missions and Cross-Cultural Studies: If you have a strong interest in global missions and cross-cultural engagement, pursuing this course is an ideal path to follow.
This advanced program explores the dynamics of mission work, intercultural communication, and contextualization of the gospel. It aims to provide the students with the knowledge and skills to engage effectively in cross-cultural ministry, develop sustainable mission strategies, and navigate the complexities of global contexts.
As a graduate of this program, you can pursue a career as a missionary, mission leader, or professor specializing in missions and cross-cultural studies.
Conclusion
The Bachelor of Arts in Christian Studies provides a pathway for students to gain a deep understanding of Christianity, its beliefs, theology, and ministry. Through stimulating courses, you stand a chance to explore the Bible, the history of the church, theology, and values pertaining to the Christian faith.
As a seeker of knowledge, you can build a solid base of biblical interpretation and critical thinking, giving yourself a chance to make a difference in your community.