FDR Marriage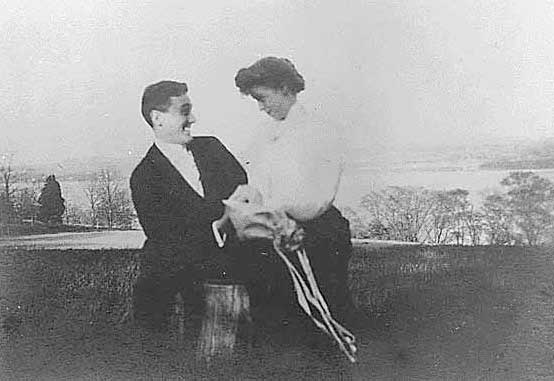 Franklin and Eleanor
Being distant cousins, Franklin and Eleanor had known each other their whole lives. In 1903 their friendship blossomed into romance. Sara attempted unsuccessfully to delay their marriage. They were married on March 17, 1905 with President Theodore Roosevelt giving away the bride. After a short delay for Franklin's law exams, the bride and groom left for a three-month honeymoon.
The Roosevelt's sailed to Europe on June 7, 1905 aboard the White Star liner Oceanic. On their arrival in London they stayed at the fashionable hotel the Browns. From London the Roosevelt's went on to Paris. There, they fully explored the city, with Eleanor complaining in her autobiography Franklin" I bought clothes and some prints, but Franklin bought books, books, everywhere he went." From Paris they went to Italy, first visiting Milan and then they went on to Venice. From there they went North to the Alps. Eleanor was not much of a climber so Franklin climbed with a woman a few years his senior named Miss Kitty Gandy. Eleanor wrote in her Autobiography "though I never said a word, I was jealous beyond description and perfectly delighted when we started off again and drove out of the mountains." From Switzerland, the Roosevelt's returned to Paris, and then on to Great Britain, where they visited Scotland. They returned in time for Franklin to begin his term at law school.
On their return from Europe, they moved into a house in Manhattan next door to Sara. Roosevelt's marriage produced five children. The nature of his marriage was never the same after Eleanor discovered, in 1920, his affair with Lucy Mercer.
---