Childhood of FDR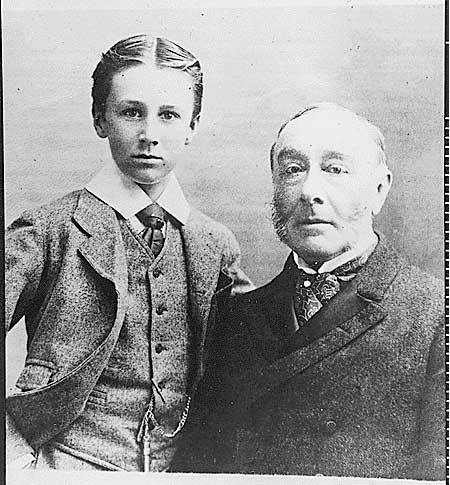 Pearl Harbor December 7, 1941
Franklin Roosevelt was born on his parent's estate at Hyde Park. His birth was a difficult one, as his mother was in labor for many hours and almost died during delivery. As a young child, Roosevelt was highly pampered - his mother or governess even bathed him until the age of eight. Until the age of four, he wore dresses and had long curly hair. His father, James, whose business interests left him with a great deal of free time, spent much of it with Franklin. At the age of four, Franklin was able to ride a horse well enough to accompany his father on tours of the estate. During the winter, Franklin would sleigh ride with his father.
Franklin had a series of eight governesses who served as private tutors as well. The governess who stayed with Franklin longest was Jeanne Sondoz, a French speaking Swiss. She stayed with the Roosevelts for 3 years. She was an enthusiastic teacher of history. Franklin was not always the best behaved child. He had a fondness for playing pranks on his governess. His most notable was pulled on Miss Sondoz predecessor, Miss Reinberg. Franklin slipped into her bedroom and spooned a double dose of effervescent into her chamber pot. When she used it in the middle of the night, the powder began to bubble and hiss, and she awakened the household to tell them about her strange symptoms. Franklin traveled extensively with his parents, both within the US and outside. Within the US he would travel on his fathers private railcar, the Monon, often over the rails of the Delaware & Hudson and the Albany & Chicago, both of which James was a director.
Franklin traveled to Europe with his parents nine times; the first time when he was three years old. At the age of five, in 1887, the Roosevelts spent eight weeks in Washington. Towards the end of the stay, James took Franklin with him, to the White House to say good-bye to his friend President Grover Cleveland. Cleveland said to Franklin: "My little man, I am making a strange wish for you. It is that you may never be President of the United States."
---