Rufus Wheeler Peckham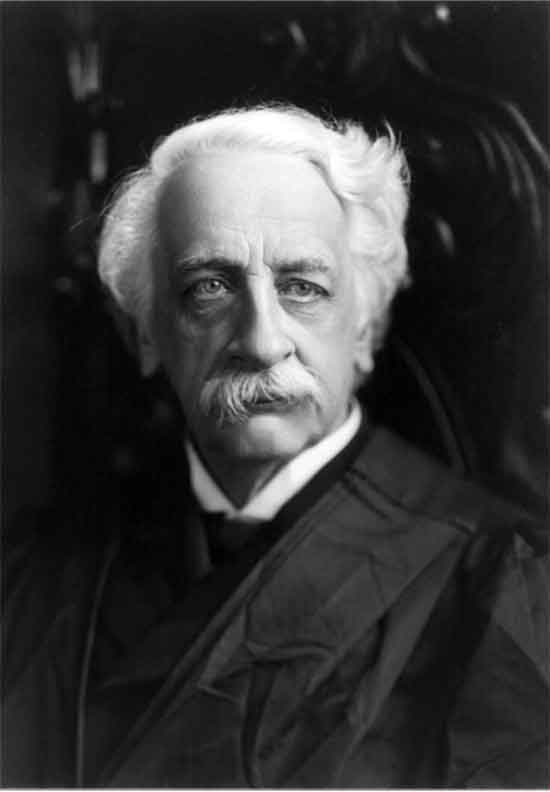 Rufus Wheeler Peckham was born in Albany, New York, on November 8, 1838. He received a classical education at the Albany Boys Academy and with private study in Philadelphia. He joined his elder brother, Wheller Hazard Peckham, in a year-long tour of Europe. After his return to the United States, he studied law for two years at his father's law firm in Albany, passed the bar in 1859 and joined his father's firm. He became a successful attorney and prominent citizen. He married Harriette M. Arnold in 1866, and eventually had two sons.
Peckham became active in politics, joining the upstate wing of the New York Democrats. He was elected district attorney for Albany County in 1869. During his three-year tenure, he served as special assistant to the state attorney general in a group of criminal cases which, a position which brought him to prominence for the skill he demonstrated. He became friendly with a number of Democratic politicians in upstate New York, including future President Grover Cleveland. In 1883, he obtained a seat on the state supreme court, then was elected to the state court of appeals in 1886. Up to this point, his legal-judicial career, as well as his physical characteristics, closely resembled that of his father.
When Supreme Court Justice Samuel Blatchford of New York died in 1893, there was a fierce battle over his successor. President Grover Cleveland wanted to appoint another New Yorker, but his attempts, including his nomination of Peckham's older brother, Wheeler, were defeated by New York Senator David B. Hill. Cleveland gave up, and nominated Senator Edward D. White of Louisiana, who won confirmation. When Justice Howell E. Jackson died in 1895, however, Cleveland again attempted to appoint someone from New York, and was able to win approval for Rufus Peckham, who was confirmed in December 1895. Soon after the nomination, Peckham said to a friend, "if I have got to be put away on the shelf I suppose I might as well be on the top shelf."
Despite his concerns about his new position, Peckham devoted himself to his work on the Court. He restricted his social life, and gave no public addresses. He maintained an interest in politics, however, advising the President and even being named a potential nominee for a New York gubernatorial election. He died while serving on the bench, on October 24, 1909, in Altamont, New York, near Albany.