President Jimmy Carter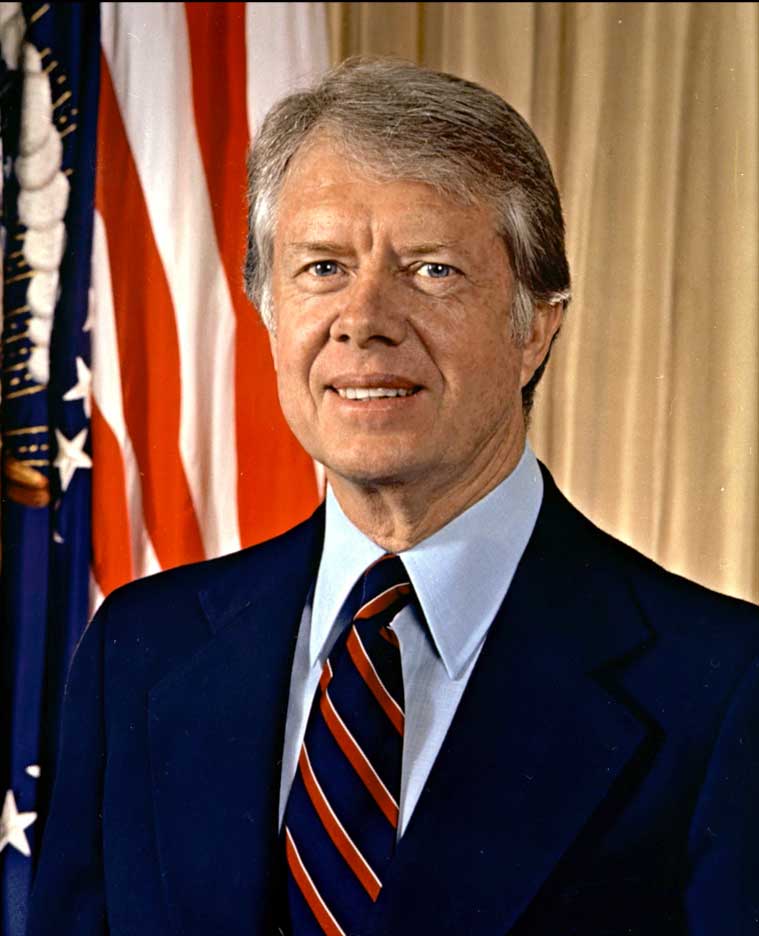 The Early Years



Jimmy Carter was born at Wise Hospital in Plains Georgia. He was the first President to be born in a hospital.

At the age of four Carter's family moved to a farm in Archery, Georgia, where he grew up. Throughout his childhood, Carter helped on the farm. He attended elementary and high school in Plains. In 1943 he began the naval academy at Annapolis. He graduated fifty nine in a class of 820 in June 1946. Carter intended to make the navy a career. He first served as an electronics instructor aboard the battleships Wyoming and Mississippi. He then went on to attend submarine school where he graduated third. In 1951 he joined the nuclear submarine program, and was chosen to became engineering officers aboard the Sea Wolf, one of the first nuclear powered submarines. In 1953 he resigned from the navy to tend the family business after the death of his father.
Under Carter, the family's peanut business prospered. In 1962 he ran for the Georgia legislature, and become a state senator, a post he held until 1967. In 1966 he ran unsuccessfully for the democratic gubernatorial nomination. In 1970 he again ran for governor, this time winning. His term of office as governor is best remembered for his efforts to relieve racial discrimination in Georgia.

Carter was a reform governor who brought was successful in introducing a broad range of reforms in the Georgia government. Carter was the first candidate to declare the democratic nomination for President.

Accomplishments in Office


On President Carter's first day in office, he pardoned all the draft evaders of the Vietnam War.

Carter had won his election campaign as an outsider, and came to Washington intent on using that to his advantage. Unfortunately he found that this made almost all his activities more difficult. He proposed an ambitious energy program, only to see it severely watered down in Congress. Carter was instrumental in concluding a treaty to turn over the Panama canal to the Panamanians, but he was forced to commit enormous political capital, getting Congress to approve.

Carter's largest success was his successful negotiations of the camp David Peace agreement, between Israel and Egypt. His success at the Camp David underlaid his greatest strength that ultimately became one of his greatest weakness. President Carter had tremendous personal tenacity in dealing with issues, and became involved in all the details. That allowed him to succeed at Camp David. However, it forced him to become too involved in day to day management. The Soviet invasion of Afghanistan destroyed what was left of detente, and the Iranian seizure of American Hostages, dominated all other government activities in Carter's last year in office, insuring his defeat to Ronald Reagan.
The First Family

Father: James Earl Carter, Sr.
Mother: Lillian Gordy Carter
Wife: Rosalyn Smith
Daughter: Ann Lynn
Sons: John William, James Earl, Jeffery
Major Events

Peace Treaty between Egypt and Israel

? The Cabinet

Secretary of State: Cyrus Vance
Secretaries of The Treasury: W. Michael Blumenthal, G. William Miller
Secretary of Defense: Harold Brown
Attorney Generals: Griffin Bell, Benjamin Civiletti
Secretary of The Interior: Cecil Andrus
Secretary of Agriculture: Robert Bergland
Secretary of Commerce: Juanita Kreps
Secretary of Labor: F. Ray Marshall
Secretaries of Health, Ed., and Welfare: Joseph Califano, Patricia Robert Harris
Secretaries of Housing & Urban Dev.: Patricia Robert Harris, Moon Landrieu
Secretaries of Transportation: Brock Adams, Neil Goldschmidt
Secretaries of Energy: James Schlesinger, Charles Duncan, Jr.
Secretary of Education: Shirley Hufstedler ?

? Military

Attempted freeing hostages in Iran.
Did You Know?

? First President from Georgia.
First President to be born in a hispital.
First President to graduate from the Naval Academy.

Inaugural Address