James Buchanan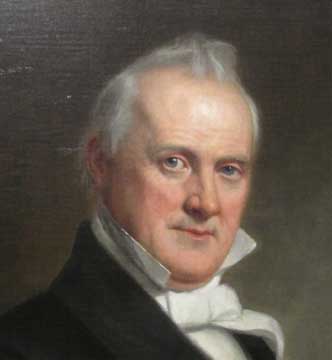 James Buchanan, the only bachelor to be President, spent his entire term of office in an unusual attempt to maintain the integrity of the Union. By the time he left office, the secession of the Southern States was already in progress.
---
The Early Years
James Buchanan was born in a log Cabin at Cove Gap, a few miles outside of Mercerberg, Pennsylvania. At the age of five he and his family moved from the log cabin to Mercerberg. Buchanan received his initial education at the Old Stone Academy in Mercerberg. He went on to attend Dickinson College in Carlisle. He graduated in 1809 and moved to Lancaster to study law. He was admitted to the bar in 1812.
In October 1814, Buchanan was admitted to the Pennsylvania House of Representatives as a Federalist. In 1820 he was elected to the US House of Representatives. Buchanan emerged as a leading opponent of the policies of John Quincy Adams. He was an active supporter of Jackson's presidential campaign. From 1829-31, Buchanan was chairman of the House Judiciary Committee. In 1830, Buchanan declined to run for re-election, preferring to return to his law practice. From 1832-33, he served as the US Ambassador to Russia, where he successfully concluded a commercial treaty.
From 1834-1845, Buchanan served in the US Senate. From 1837, he served as chairman of the Senate Foreign Relations Committee and from 1945, for four years, he was US Secretary of State. In 1848, Buchanan was a candidate for the Democratic presidential nomination. When he was not selected, he supported his opponent, Lewis Cass, who lost the election. In 1852, he was once again a contender for the nomination, lost again, and this time the winner he supported - Franklin Pierce - was elected. Pierce appointed Buchanan Ambassador to Great Britain.
Accomplishments in Office
Buchanan's administration was overwhelmed almost immediately by the brewing storm of the Civil War. Days after he was sworn in, the Supreme Court handed down the Dred Scott decision, denying the right of a black person to sue, on the grounds that blacks were not protected by the constitution. This decision supported Buchanan's view that the constitution supported slavery, and that, although he personally opposed it on moral grounds, there was little that he could or would do given his and the Supreme Court's reading of the Constitution.
Buchanan was in favor of admission of Kansas as a slave state but, in 1861, Kansas was admitted as a free state. This split his party and, after Lincoln's election, Buchanan stood by helplessly as Southern States seceded from the Union. He stated that on one hand the States had no right to secede, on the other hand there was nothing he, as a lame duck President, could do about it.
The First Family
Father: James Buchanan, Sr.
Mother: Elizabeth Speer Buchanan
Major Events
John Brown Leads Revolt
Democratic Party Splits
Lincoln Nominated
South Carolina Secedes
Panic of 1857
Dred Scott Decision
Lincoln Douglas Debates
The Cabinet
Secretary of State: Lewis Cass
Secretaries of Treasury: Howell Cobb, Phillip Thomas, John Dix
Secretaries of War: John Floyd, Joseph Holt
Attorney Generals: Jeremiah Black, Edwin Stanton
Secretary of Navy: Issac Toucey
Postmaster Generals: Aaron Brown, Joseph Holt, Horatio King
Secretary of Interior: Jacob Thompson
Military
None
Did You Know?
Only bachelor to be President.
First President born in Pennsylvania.