James K. Polk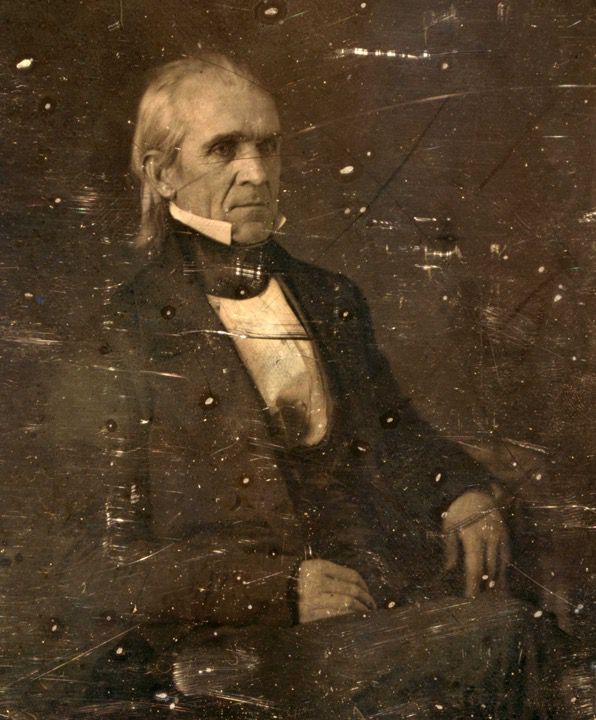 Polk was elected to office based on a platform of expansion. His Presidency is best known for his succesful prosecution of the war with Mexico and the settling of the dispute with Great Britain over the Oregon Territory. Elected 1844
---
The Early Years
James Polk was born on the family farm in Mecklenburg County, North Carolina. At the age of ten, he moved with his family to Tennessee. Although Polk helped his father clear new land , he was a sickly youngster. At the age of 17, he underwent experimental surgery to remove gallstones. In 1816, at the age of 21, he entered the University of North Carolina as a sophomore. He went on to study law under Felix Grundy. In 1820 Polk was admitted to the bar. In 1821, he was commissioned a captain of a militia cavalry regiment. From 1823-1825 he was a Member of the Tennessee House of Representatives.
From 1825-1839 Polk served as a member of the US House of Representatives. He was a strong supporter of President Jackson. In 1835 Polk was elected the Speaker of the House. From 1839-1841 he served as governor of Tennessee.
Accomplishments in Office
Polk entered office with four stated objectives. They were a reduction in the tariff, an independent treasury, settlement of the Oregon boundary dispute and acquisition of California. Polk was successful in achieving all his goals.
Attaining the first two was relatively simple. In 1846, the Walker Tariff Act and the Treasury Act passed Congress and became law.
The other two goals were more difficult. In order to achieve them, he had to go to war with Mexico and threaten to do the same with Great Britain. Of course, knowing who to fight and when is one of the most important lessons for world leaders. Even though Mexico fired the first shot, Polk provoked it. He was, however, willing to compromise with Great Britain.
The First Family
Father: Samuel Polk
Mother: Jane Knox Polk
Wife: Sarah Childress
Major Events
Oregon Treaty
Independent Treasury
Mexican War
Mormons Settle Great Salt Lake
Treaty of Guadalupe Hidalgo
Gold Discovered in California
The Cabinet
Secretaries of State: Martin Van Buren, Edward Livingston, Loiuse McCane, John Forsyth
Secretaries of the Treasury: Samuel Ingham, Loius McCane, William Duane, Levi Woodbury
Secretaries of War: John Eaton, Lewis Cass, Benjamin Butler
Secretaries of the Navy : John Brunch, Levi Woodbury, Maholon Dickerson
Postmaster Generals: William Barry, Amos Kendall
Military
Mexican-American War
Did You Know?
First President born in North Carolina.
First President to be survived by his mother.
<!––blank ––>