Willbur Mills
1909- 1992
American Politician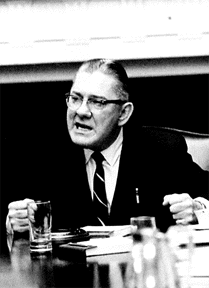 Powerful long-time Congressman Wilbur Mills was born in Kensett, Arkansas, and studied law as a young man. He became a probate judge, then was elected in 1938 as a Democrat to the House of Representatives where House Speaker Samuel Rayburn was a mentor to him.
Mills was appointed to the powerful Ways and Means Committee in 1943, and became chairman of the committee in 1958. The greatest tax expert in the House, Mills supported conservative fiscal policy that would allow a balanced budget, although he also supported many liberal reforms.
An important voice for the creation of the Tax Reform Act of 1969, Mills had by then established a distinguished political career. Unfortunately, his reputation and career were tarnished after he became embroiled in personal scandals. In 1974, he stepped down from his position as committee chair and, in 1977, retired from the House.