John Paul II
1920-2005
Pope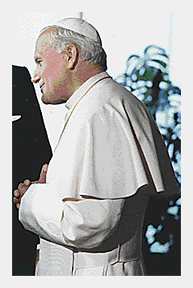 Roman Catholic clergyman John Paul II was the first non-Italian to be chosen Pope since 1523. He was born in Poland and studied at Kracow University. Ordained as a priest in 1946, he became a Cardinal in 1967.
John Paul is a conservative theologian on issues such as birth control and the role of women in the church. However, he played an active role in international politics: he strongly supported Solidarity in Poland, thus helping to assure its success; he was also an opponent of Communism, and his vocal protests helped contribute to the fall of many communist regimes.
John Paul worked to achieve raprochment between Roman Catholics and Jews. His visit in 2000 to Israel combined with his visits to concentration camps played an important roll in that reconciliation.
In addition to his theological role, Pope John Paul has written a play, many poems and several books.