Andy Grove
1936-2016
Industrialist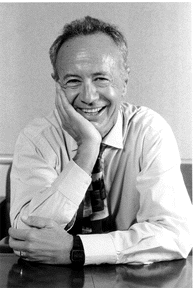 Andy Grove was born in Budapest, Hungary in 1936. He fled Hungary in 1956 with tens of thousands of other refugees from the abortive Hungarian revolution.
In 1960 he graduated from City College of New York with a bachelor's in chemical engineering. He went on to earn his PhD from the University of California, Berkeley in 1963. After graduation he went to work for Fairchild Semiconductor, becoming Assistant Director of Research & Development in 1967.
Grove was one of the founders of Intel in 1968. In 1979 he became the President of Intel and in 1987 he became CEO. He relinquished his title of CEO in 1998, but remained the Chairman of the Board.
Grove is credited with leading Intel into the position of dominant semiconductor manufacturer, particularly in the field of microprocessors. Grove has written extensively and waged a highly public war on prostrate cancer. He lost that battle in 2016.