Elizabeth II
1926-2022
Queen of England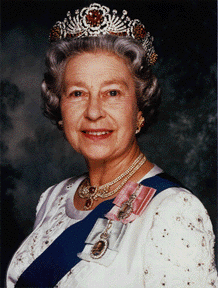 Elizabeth II was born in London as a royal princess. She only became heir to the throne after her uncle, Edward VIII, abdicated in 1936 and her father, George VI, became King.
Elizabeth married Philip Mountbatten, a prince of Greece, in 1947. Upon the death of her father in 1952, Elizabeth became Queen.
At the time of her coronation, it was hoped that she would usher in another "Elizabethan age." She has been an active constitutional monarch, traveling extensively representing Great Britain's interests around the world and has been widely admired for her peerless devotion to duty and her country.
For a period, her family was beset by a number of personal difficulties including divorces among three of her four children and the untimely death of Diana, the Princess of Wales who was married to Elizabeth's heir, Charles.In the last few years the with the reaching of maturity of Prince William and Harry there has been a renewed enthusiasim for the Crown. Elizabeth celibrated her 70th year on the thrown, a few months before dying in September of 2022