Calvin Coolidge
1872- 1933
US President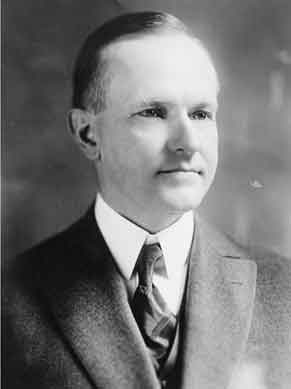 Calvin Coolidge was born at the family home adjoining the Coolidge General Store in Plymouth, Vermont. He graduated from Amherst in 1895, after which he studied law and was admitted to the bar in 1897. He set up a law practice in Northampton, Massachusetts. There, he served in various local positions, including City Council member and City Solicitor.
From 1907 to 1908, Coolidge served in the Massachusetts state legislature, where he established a progressive record. From 1910 to 1911, he served as Mayor of Northhampton and, from 1912 to 1915, as a Massachusetts State Senator, the last year of which he was President of the Senate. Coolidge later served as an activist Lieutenant Governor of Massachusetts. From 1919 to 1920, he served as Governor. The most notable moment of his administration was his strong opposition to the police strike in Boston in 1919.
Coolidge was a "favorite son" candidate for the Presidency at the Republican convention that nominated Warren Harding. The expected candidate for the Vice Presidency was Senator Irving Lenroot of Wisconsin. Unexpectedly, Coolidge's name was entered and he won on the first ballot. Upon Harding's sudden death, Coolidge became President.
Coolidge's nickname was "Silent Cal." He believed that the government should have as small a role as possible in the country and that the country's well-being was best preserved by allowing business to create wealth. Perhaps his most famous remark comes from a 1925 speech in which he stated: "The business of America is business."
Coolidge presided over a period when taxes and government spending were lowered. The President resisted appeals from veterans for bonus payments. He vetoed the Soldiers' Bonus Act as well as the McNary-Haugen Farm Relief Bill, and continued to oppose American entry into the League of Nations, although he supported the United States joining the World Court.