Margaret Thatcher
1925-2013
British Politician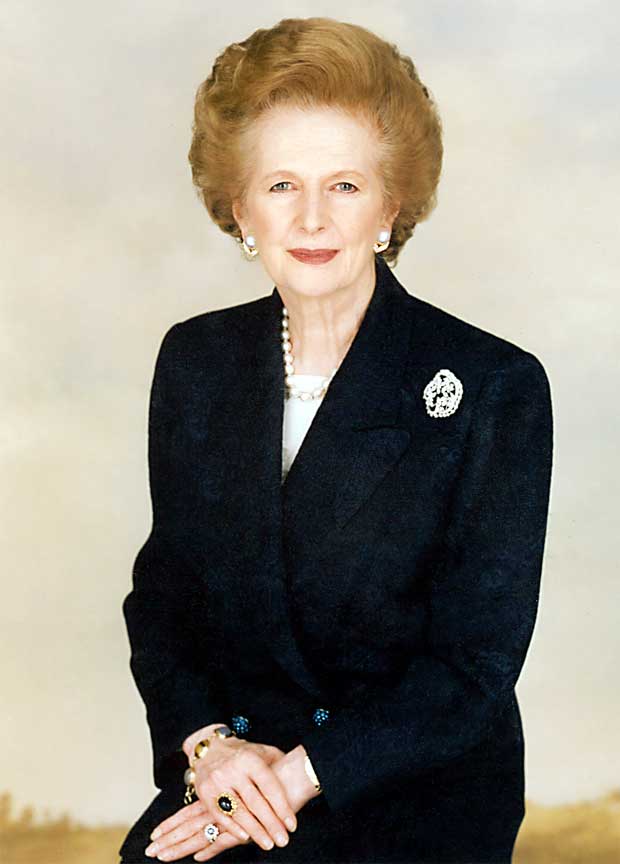 argaret Thatcher was the daughter of a grocer. She was born on October 13 1925, in Grantham, Lincolnshire She studied chemistry at Oxford and later turned to politics, running unsuccessfully for Parliament in 1950 and 1951. She then studied law. In 1959, she was elected as a Conservative member of Parliament. In the government of Prime Minister Heath she served as Education Minister from 1970 to 1974.
In 1975 she ousted Heath as leader of the Conservative Party, and in 1979 the Conservatives, under her leadership, won a landslide victory at the polls.
Thatcher was reelected in 1983 and 1988. In 1988 she became the longest- serving British Prime Minister of the century. Thatcher's vigorous response to the Argentine invasion of the Falkland Islands, resulting in the Falkland War, was highly popular. Strongly opposing the actions of the Soviet Union, Thatcher allied Britain with Ronald Reagan's foreign policy.
Thatcher strongly pursued Conservative policies in domestic affairs by cutting public spending and selling government companies. She lost popularity when she attempted to impose a flat poll tax instead of local taxes. Her support for Britain to join the European Monetary Union was very unpopular within the Conservative Party, and she was forced to resign in 1990.
Bibliography:
Margaret Thatcher: From Grantham to the Falklands: The Authorized Biography
.The Iron Lady: Margaret Thatcher, from Grocer's Daughter to Prime Minister
The Downing Street Years