James Meredith
1933-
Civil Rights Activist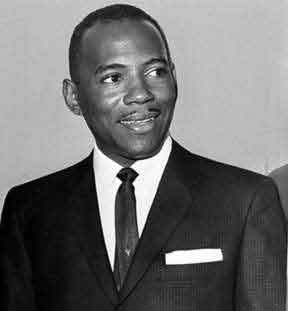 James Meredith was born in Kosciusko, Mississippi, and spent nine years in the Airforce. In 1960, he returned to Mississippi, and applied for admission the following year to the all-white University of Mississippi.
Initially, he was denied admission because he was black, but in 1962, a federal court ordered the school., nicknamed "Ole Miss," to admit Meredith. When Governor Ross Barnett refused to comply, President Kennedy sent in federal marshals and troops to escort Meredith to the school.
Riots broke out on campus. Nevertheless, on the next day, October 1, Meredith registered at Ole Miss, the first black student to do so. After graduating in 1963, he spent a year studying in Nigeria, then returned to the United States to obtain a law degree from Columbia University.
In 1966, while still a law student, he began a "march against fear" from Tennessee to Mississippi to bring publicity for a voter registration drive. A sniper wounded him on the second day of his march. The march was later continued under the leadership of Martin Luther King, Jr., of SCLC, Floyd McKissick of CORE and Stokely Carmichael of SNCC.
The same year, Meredith published an autobiographical account entitled Three Years in Mississippi. After graduating, he became a businessman in New York City and maintained his involvement in the civil rights movement. From 1989 to 1991, Meredith served as a policy advisor to conservative Republican Senator Jesse Helms, who only ten years earlier had opposed the establishment of Martin Luther King, Jr. Day.