Michael Jordan
1963-
American Athlete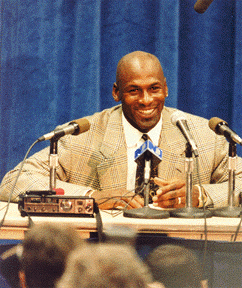 Michael Jordan was on February 17, 1963 in Brookly New York. His family moved to Wilmington North Carolina when he was small. In his sophmore year in high school he became a star of his junior varsity team.
Widely regarded as the greatest basketball player in history, Michael Jordan was a consistent top scorer and league MVP during his career with the Chicago Bulls.
He led his team to an unprecedented six NBA championships and was also a member of two gold medal-winning US Olympic basketball teams. Jordan was also a successful college athlete prior to turning professional.
He retired from basketball in l993 to pursue a career in professional baseball. Though he made a credible effort, his relative lack of success in baseball propelled him back to basketball to lead the Bulls to three more championships before retiring in 1998 for a career in commercial endorsements and other business endeavors.