Dustin Hoffman
1937-
Actor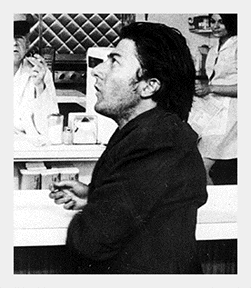 Born in Los Angeles, California in 1937, movie star Dustin Hoffman became an 'overnight success' with his portrayal of the confused young Benjamin Braddock in 1967's The Graduate. The role earned him his first Oscar nomination. His second nomination came for his second role, that of Ratso Rizzo in Midnight Cowboy and his third for his portrayal of comedian Lenny Bruce in Lenny.
Hoffman finally captured the coveted award for his work as the suffering father in the midst of a painful divorce in Kramer vs. Kramer (1980). He was nominated yet again for the comedy Tootsie and won his second Academy Award for his sensitive portrayal of an autistic man in Rain Man (1989).
For his role in Wag the Dog (1998), Hoffman was honored with both Golden Globe and Academy Award nominations.
Among Hoffman's other film credits are Little Big Man, All the President's Men, and Hook.
Originally trained for a stage career, Hoffman took to the boards again to star in Death of a Salesman and The Merchant of Venice, for which he received critical raves.
Among Hoffman's many honors are five Golden Globe awards, a Golden Lion from the Venice Film Festival in 1996, and a Golden Berlin Bear from the Berlin International Film Festival in 1989.