T.S. Eliot
1888- 1965
American Poet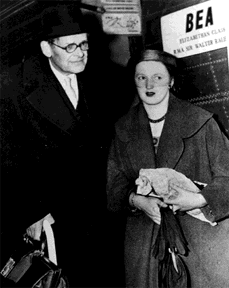 American-born poet, critic, and playwright Thomas Stearns Eliot settled in London after studying at Oxford. He became a British subject in 1927.
With the publication of his first two works, "Prufrock and other Observations" and "The Wasteland," Eliot's reputation was made. He is viewed as the leading voice of modernism and as one of the most important poets of the 20th century.
Eliot received the Nobel Prize for literature in 1948. Among his works are "The Cocktail Party," "Old Possum's Book of Practical Cats," "Four Quartets" and "Poetry and Drama."
An outspoken humanist and philosopher, Einstein wrote works such as Why War (1933, with Sigmund Freud) and About Zionism (1930). In the year of his death, Einstein signed a document, along with six other Nobel Prize winners, that appealed to the world to seriously consider the dangers of nuclear war.