David Ben- Gurion
1886- 1973
Israeli Statesman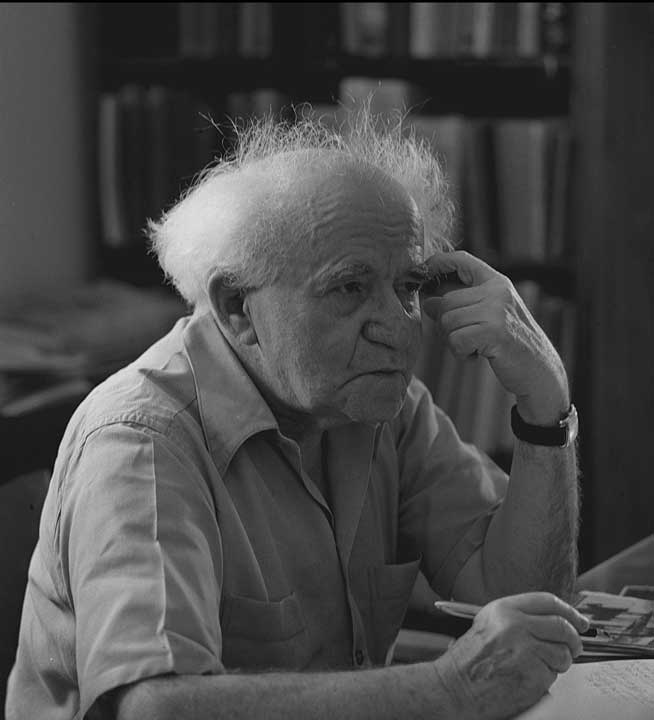 David Ben-Gurion was born 1886, in Plonsk, Russian-occupied Poland. As a boy, he founded a local Zionist youth society. He moved to Palestine in 1904.
Ben-Gurion became active in recruiting for the Jewish Legion, and finally enlisted himself in 1918. Ben-Gurion was one of the founders of the Histadrut. From 1921 to 1935, Ben-Gurion was the General Secretary of the Labor party.
From 1935 until the establishment of the State of Israel in 1948, Ben-Gurion served as Chairman of the Executive of the Jewish Agency. He was a supporter of the "Peel Commission Plan for Partition."
In the immediate post-World War II years, Ben-Gurion led the Jewish community in Palestine towards independence and was in the forefront of those supporting the development of the Haganah, the indigenous defense forces. On May 14, 1948, David Ben-Gurion chaired the meeting of the People's Council which declared the independence of the State of Israel.
Ben-Gurion assumed the post of Prime Minister and Defense Minister in the provisional government. In 1949, after his election to the first Knesset, Ben-Gurion became the Prime Minister and Defense Minister.
Ben-Gurion retired temporarily in 1953, but returned to the government in 1955. He remained Prime Minister until 1963.
He died in Israel in 1973.