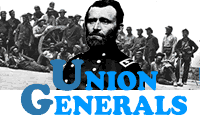 GENERAL JOHN ELLIS WOOL, USA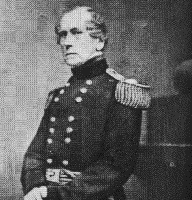 VITAL STATISTICS
BORN: 1784 in Newburgh, NY.
DIED: 1869 in Troy, NY.
CAMPAIGNS: Fort Monroe and Occupation of Norfolk, VA.
HIGHEST RANK ACHIEVED: Major General.

BIOGRAPHY
John Ellis Wool was born in Newburgh, New York, on February 29, 1784. He was orphaned at the age of four, and received little formal education. The War of 1812, however, provided an opportunity for him to advance in the military, and, by 1841, was promoted to brigadier general. Wool fought in the Mexican War, and was brevetted a major general for his service. He was then assigned to the command of the Eastern Military Division (1848-1853), the Department of the Pacific (1854-57) and the Department of the East (1857-61). When the Civil War began, he was given command of the Department of Virginia, while George B. McClellan was promoted to major general despite Wool's seniority. Wool held Fort Monroe against Confederate attacks, and independently occupied Norfolk, Virginia, refusing to serve under McClellan's command. Wool's successes led to his promotion to major general, although McClellan demanded that Wool's department be placed under his command for the Peninsula Campaign. Lincoln assented, and reassigned Wool to the command of the Middle Department in June of 1862. After leading the VII Corps in July of 1862, he served as commander of the Department of the East from January of 1863. Wool died on November 10, 1869, in Troy, New York., to which he had retired in 1863.