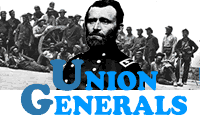 GENERAL JAMES HARRISON WILSON, USA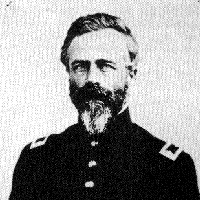 VITAL STATISTICS
BORN: 1837 near Shawneetown, IL.
DIED: 1925 in Wilmington, DE.
(One of the last surviving Union Generals.)
CAMPAIGNS: Vicksburg, Chattanooga, Nashville, and Selma.
HIGHEST RANK ACHIEVED: Brigadier General (and Physician).

BIOGRAPHY
James Harrison Wilson was born on September 2, 1837, near Shawneetown, Illinois. After graduating from West Point in 1860, , By the summer of 1861, he was a 2d lieutenant. His ambitions led him to leave Fort Vancouver, Washington in order to play a more central role in the Civil War. Wilson spent the first couple of years of the war in engineering and staff positions. Late in 1862, he joined Maj. Gen. Ulysses S. Grant's army. His friendship with Grant led to his being promoted to staff lieutenant colonel and inspector general of the Army of the Tennessee. He took part in the Vicksburg Campaign of 1863, and was promoted to brigadier general on October 30, 1863. Grant gave Wilson command of a cavalry division in the Army of the Potomac, with which he performed well. In June of 1864, however, Wilson's first independent raid almost ended in disaster. After leading troops in the Shenandoah Valley, he took part in the Battle of Nashville, then led a raid that helped push Confederate forces back to Selma, Alabama. Wilson ended his raid in April, when he learned of the Confederate surrender and resulting end of the war. His troops captured Confederate President Jefferson Davis on May 10, 1865, and was promoted to major general on June 21, 1865. In 1870, Wilson resigned his commission, and began working as a civilian engineer and railroad executive. He returned to the military when the Spanish-American War began, then retired in 1901, with the rank of brigadier general in the Regular Army. Wilson died on February 23, 1925, at his home in Wilmington, Delaware, one of the last surviving Union generals.