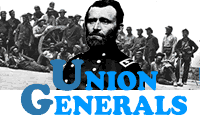 GENERAL ALEXANDER STEWART WEBB, USA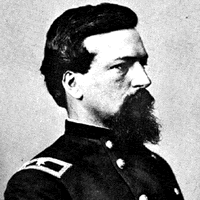 VITAL STATISTICS
BORN: 1835 in New York City, NY.
DIED: 1911 in Riverdale, NY.
CAMPAIGNS: Fort Pickens, First Bull Run, Antietam, Defenses of Washington DC, Chancellorsville, Pickett's Charge, Bristoe, Mine's Run, and Spotsylvania.
HIGHEST RANK ACHIEVED: Major General.

BIOGRAPHY
Alexander Stewart Webb was born in New York City, New York, on February 15, 1835. He attended private school, then was appointed to the US Military Academy at West Point. Graduating in 1855, he fought against the Seminoles in Florida, then taught mathematics at West Point. When the Civil War began, Webb took part in the defense of Fort Pickens, in Florida. He rose through the ranks, and was chief of artillery of the Army of the Potomac during the First Battle of Bull Run. In the Antietam Campaign, he was chief of staff of the V Corps, and was later assigned to service in the defenses of Washington, D. C. Webb took part in the Chancellorsville Campaign, and was promoted to brigadier general on June 23, 1863. His role in Pickett's Charge later earned him a Medal of Honor. Webb took part in the operations at Bristoe and Mine Run, Virginia; and was seriously wounded at Spotsylvania. After his recovery, he served as chief of staff to Maj. Gen. George G. Meade until the end of the war. Webb remained in the army until 1870, and was brevetted major general in the volunteer and Regular services for his record of war service. He taught at West Point during his final tour of duty, and was honorably discharged. For 33 years, he served as president of the College of the City of New York. Webb died on February 11, 1911, in Riverdale, New York.