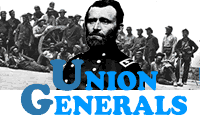 GENERAL CADWALLADER C. WASHBURN, USA
VITAL STATISTICS
BORN: 1818 in Livermore, ME.
DIED: 1882 in Eureka Springs, AR.
CAMPAIGNS: Yazoo Pass Expedition and Vicksburg.
HIGHEST RANK ACHIEVED: Major General.

BIOGRAPHY
Cadwallader Colden Washburn was born on April 22, 1818, in Livermore, Maine. He left Maine in 1839, and traveled in Iowa, Mississippi and Illinois. Washburn held several different jobs, studied law, then settled in Mineral Point, Wisconsin and established a legal practice in 1842. Among his other activities was speculating in real estate, founding the Mineral Point Bank, and obtaining financial interests in lumber, water, railroading, and flour-milling. In 1854, Washburn was elected to the US House of Representatives as a Republican, and he served through 1861. He was a delegate to the 1861 Washington Peace Conference, then raised troops for service for the Union cause. Washburn served with the Army of the Southwest, then was promoted to brigadier general on July 16, 1862, later leading the Yazoo Pass Expedition. Promoted to major general on March 13, 1863., he led a cavalry division in operations around Vicksburg, and commanded troops at the surrender of Vicksburg. His later service was largely administrative, and he resigned his commission in May of 1865. Washburn returned to attending to his business practices, and became very wealthy. He was elected to the US House of Representatives (1867-71) and became governor of Wisconsin until 1873. Washburn founded Washburn, Crosby & Co., which later became the General Mills Corporation. Washburn suffered a stroke in 1881, then went to Eureka Springs, Arkansas, where he died on May 14, 1882.