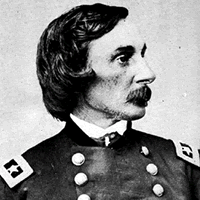 VITAL STATISTICS
BORN: 1830 in Cold Springs, NY.
DIED: 1882 in Newport, RI.
CAMPAIGNS: Peninsula, Second Bull Run, Antietam,
Gettysburg, Overland and Five Forks.
HIGHEST RANK ACHIEVED: Major General.

BIOGRAPHY
Gouverneur Kemble Warren was born in Cold Spring, New York, on January 8, 1830. Graduating from West Point in 1850, he served in the Corps of Topographical Engineers, and taught mathematics at his alma mater. When the Civil War began, Warren became colonel of the 5th New York, and led a brigade in the Peninsula Campaign, the Second Battle of Bull Run and at Antietam. Promoted to brigadier general on September 26, 1862, he served as chief engineer of the Army of the Potomac at Gettysburg. Although he did not command troops at Gettysburg, his advice to Maj. Gen. George Sykes' corps is credited with having helped divert disaster for the Union. Warren was promoted to major general to rank from May 3, 1863, and later led the V Corps in the Overland Campaign of 1864. His caution on the field became problematic for the Union strategies; so that, despite his victory at Five Forks, he was relieved from command. Warren spent the rest of his career in the army working as an engineer and writer on military subjects. Warren died on August 8, 1882, in Newport, Rhode Island.