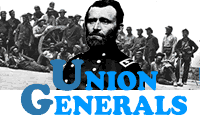 GENERAL WILLIAM THOMAS WARD, USA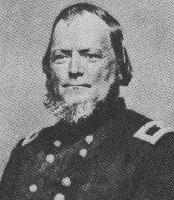 VITAL STATISTICS
BORN: 1808 in Amelia County, VA.
DIED: 1878 in Louisville, KY.
CAMPAIGNS: (Pursuit of) Morgan's Kentucky Raid, Atlanta, Resaca, Peachtree Creek, March to the Sea, and Carolinas.
HIGHEST RANK ACHIEVED: Major General.

BIOGRAPHY
William Thomas Ward was born on August 8, 1808, in Amelia County, Virginia. He studied at St. Mary's College in Kentucky, then practiced law until the Mexican War. Ward served as a major in the Mexican War, then was elected in the state legislature and the US House of Representatives (1851-53). After one term in the House of Representatives, he chose to return to his law practice. In August of 1861, Ward recruited troops, and soon 20 companies of volunteers expressed interest in serving under him. Appointed a brigadier general on September 18, 1861, he led a brigade in the Department of Kentucky. Called "Old Pap" by his troops, Ward led a brigade in the Army of the Ohio by the spring of 1862 . Ward later took par in the Atlanta Campaign, in which he was seriously wounded. Distinguishing himself at Peachtree Creek, he led a division in Sherman's March to the Sea and through the Carolinas. He was brevetted a major general of volunteers in February of 1865, then left the service six months later to return to his law practice. Ward died in Louisville, Kentucky, on October 12, 1878.