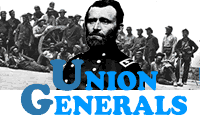 GENERAL LEWIS WALLACE, USA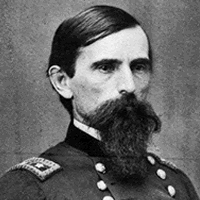 VITAL STATISTICS
BORN: 1827 in Brooksville, IN.
DIED: 1905 in Crawfordsville, IN.
CAMPAIGNS: Fort Henry, Fort Donelson, Shiloh, Shenandoah Valley (1864).
HIGHEST RANK ACHIEVED: Major General.
Famous for writing Ben Hur in 1880.
BIOGRAPHY
Lewis Wallace was born in Brookville, Indiana, on April 10, 1827. He served in the Mexican War, then left the military to establish a career in law and politics. When the Civil War began, he returned to military service, and was able to make his way through the ranks largely because of his political connections. Wallace was appointed brigadier general of volunteers on September 3, 1861, and served at Forts Henry and Donelson. Promoted to major general to rank from the march 21, 1862, he fought in the Battle of Shiloh. His mistakes and poor judgment earned the criticism of Maj. Gen. Ulysses S. Grant. Wallace was removed from combat duty, and was appointed to the administrative position of commander of the Middle Department. He organized the defense of Cincinnati when Maj. Gen. E. Kirby Smith invaded Kentucky. Wallace returned to the field , leading forces at Monocacy and in the 1864 Shenandoah Valley Campaign . When the Civil War ended, Wallace joined the cause of the Mexican liberals against the French occupation. Although he hoped to lead the Republican troops to glory, he saw no action in the conflict. He resigned from the army, then served as governor of New Mexico, then minister to Turkey. Wallace is best known as the author of the novel "Ben Hur" (1880). He died on February 15, 1905, in Crawfordsville, Indiana.