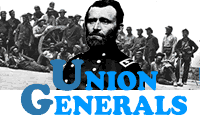 GENERAL CHARLES CAROLL WALCUTT, USA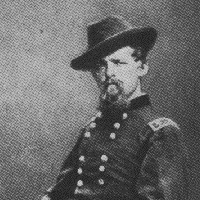 VITAL STATISTICS
BORN: 1838 in Columbus, OH.
DIED: 1898 in Omaha, NE.
CAMPAIGNS: Shiloh, Vicksburg, Missionary Ridge, Relief of Knoxville, Atlanta, March to the Sea, and Griswoldville.
HIGHEST RANK ACHIEVED: Major General.

BIOGRAPHY
Charles Carroll Walcutt was born on February 12, 1838, in Columbus, Ohio. The son of a veteran of the War of 1812, young Walcutt was graduated from the Kentucky Military Institute in 1858. He worked as county surveyor in central Ohio until April of 1861, at which point he raised a company of Ohio volunteers. Walcutt served with state troops until October, when he was appointed a field officer in the 46th Ohio Infantry. Wounded at Shiloh, his first battle, he remained with his regiment despite the minié bullet in his left shoulder. He took part in the Vicksburg Campaign, fought at Missionary Ridge and during the attempts to relieve Knoxville, and participated in the Atlanta Campaign. Promoted to brigadier general of volunteers as of July 30, 1864, he was present at Sherman's March to the Sea, and was wounded in the leg at Griswoldville in November of 1864. Walcutt recovered in time to return to his brigade in March of 1865, and was later brevetted a major general. In January of 1866, he was mustered out of the service, although he would later serve briefly as lieutenant colonel of the 10th US Cavalry. Walcutt became warden of the Ohio Penitentiary. In 1869, President Ulysses S. Grant appointed him collector of internal revenue. Walcutt was later elected mayor of Columbus, Ohio for two terms; and died in Omaha, Nebraska on May 2, 1898.