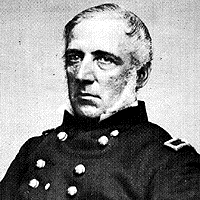 VITAL STATISTICS
BORN: 1839 in Geneseo, NY.
DIED: 1864 inWilderness, VA.
CAMPAIGNS: Gettysburg, Overland, Spotsylvania, and Wilderness.
HIGHEST RANK ACHIEVED: Brigadier General.

BIOGRAPHY
James Samuel Wadsworth was born on October 30, 1807, in Geneseo, New York. His father was one of New York's richest landowners, and young Wadsworth received a private education. He studied law at Harvard, continued to study at home and passed the bar in New York. Wadsworth applied his legal education to managing his estate and entering politics, initially as a Democrat. While he did not run for office, he led New York's Free Soil Party, then joined the Republican Party in 1856. When the Civil War began, Wadsworth declined a major generalship, instead choosing to serve as a volunteer aide to Brig. Gen. Irvin McDowell. McDowell was impressed by Wadsworth's efforts, and secured for him a promotion to brigadier general as of August 9, 1861. After serving in administrative duties, Wadsworth commanded a brigade in the Army of the Potomac; serving until he was appointed military governor of Washington D.C. in March of 1862. He later took part in the Battles of Chancellorsville and Gettysburg, and the Overland Campaign. At the Battle of Spotsylvania, Wadsworth was mortally wounded; and he was taken prisoner at the Battle of the Wilderness. Wadsworth died in a Confederate hospital behind Confederate lines, on May 8, 1864.