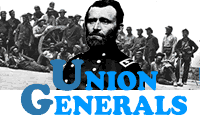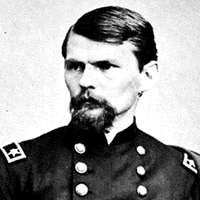 VITAL STATISTICS
BORN: 1839 near Batavia, NY.
DIED: 1881 in San Francisco, CA.
(Upton shot himself at his post.)
CAMPAIGNS: First Bull Run, Peninsula, Crampton's Gap, Antietam, Rappahannock, Station, Spotsylvania, and Sheridan's Shenandoah Valley.
HIGHEST RANK ACHIEVED: Major General.

BIOGRAPHY
Emory Upton was born near Batavia, New York, on August 27, 1839. His family emphasized strict discipline, and Upton soon decided to join the military. He studied at Oberlin College in Ohio for two years, then attended West Point, graduating in May of 1861. Almost immediately, he entered the Union service, and was promoted to 1st lieutenant in the artillery. Upton took part in the First Bull Run Campaign, in which he was wounded; then served with distinction in the Peninsula Campaign. He fought at Crampton's Gap and Antietam, and became colonel of the 121st New York Volunteers., and later fought at Rappahannock Station in November of 1863. Upton was promoted to brigadier general to rank from May 12, 1864, for creating an innovative ways of arranging troops for attack at Spotsylvania. Wounded in the Shenandoah Valley Campaign, he led a division of troops against Selma, Alabama. By the end of the Civil War, he had commanded troops in the infantry, cavalry and artillery, faring well in all three branches. After the Civil War ended, he promoted reform in the military system, and wrote "Infantry Tactics" (1867) and "Military Policy of the United States" (1904). He was plagued by violent headaches, and became increasingly discouraged and disillusioned in the years following the war. Upton shot himself on March 15, 1881, at his post at the Presidio, in San Francisco, California.